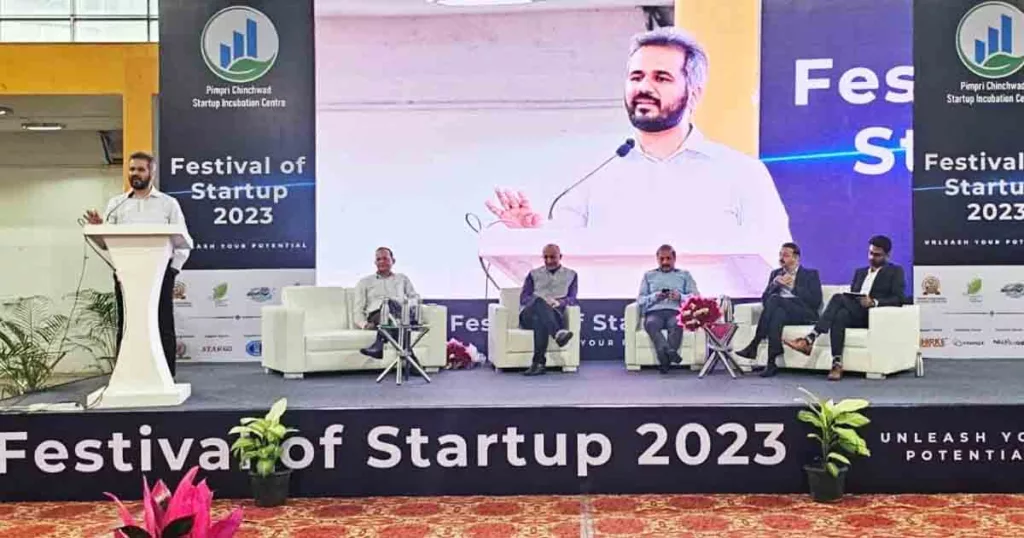 By: Pune Pulse
September 8, 2023
Pune: On the second day of the event 'Festival of Startups' organized at Auto Cluster, several notable people gave guidance on 'Catalyzing Growth: The Role of Innovative Infrastructure in Emerging Economies'.
As per information, after the independence of the country, large settlements were converted into cities. This led to a great increase in urbanization. Due to the increase in the needs of the cities, many problems like water systems, drainage, roads, transportation problems as well as the health of the cities and environment conservation have arisen. Vikram Kumar, Municipal Commissioner, Pune Municipal Corporation asserted that the role of startups in urban planning and management will be important to balance the fact that along with the expansion of cities, new technology will be faced with the development. He was speaking while guiding the budding entrepreneurs during a panel discussion.
Rahul Mahiwal, PMRDA Director, Sachindra Singh, PMPML Director, Shekhar Singh, Pimpri Chinchwad Municipal Corporation Commissioner, Sanjay Kolte, Pune Smart City CEO participated in the panel discussion. On this occasion, Pimpri Chinchwad Smart City Co-CEO Kiranraj Yadav, Deputy Commissioner Ravikiran Ghodke, Auto Cluster Managing Director Kiran Vaidya, Company Secretary Chitra Panwar, Foxberry CEO Ankit Bhargava, Public Relations Officer Prafulla Puranik, Manager Uday Dev and other dignitaries were present. Also, Shri Balaji University, SB Patil Institute of Management, MUCC College Pimpri, DY Patil Institute of Technology, Sangvi Keshari College etc. participated.
Shekhar Singh, Pimpri Chinchwad Municipal Commissioner said that the cities of Pune and Pimpri Chinchwad are emerging as smart cities. Both the Municipal Corporations are emphasizing on planning according to the needs of the cities. Startups should come up with new ideas by finding solutions to strengthen essential elements like education, road development, water supply, drainage, health and environment. For this, the municipal administration has always maintained a sense of cooperation. On this occasion, he appealed that the youth should come forward to overcome the problems arising in urban planning.
PMRDA Commissioner Rahul Mahiwal said that the 'GIS' system is being developed for improved services, improved planning of resources, natural resource management, transparent administration and emergency management in the municipal sector. He also expressed the hope that many such ideas will be developed through the Festival of Startups, saying that this system is useful for property surveys and startups need to take the initiative to use it more effectively.
PMPML Chief Managing Director Sachindra Singh and Pune Smart City CEO Sanjay Kolte also expressed their views saying that urban migration has increased the expansion of Pune city. With the increase in population, many needs of the city have arisen. The youth is capable of finding solutions to this problem and many solutions will come forward through startups. Discussions were held on the role of startups in urban planning and management in areas such as taxation, environment, traffic management, data analytics and property tax issues as well as other resource areas. The afternoon session was guided by Mahesh Kulkarni, Ex-CFO, Angel Investor, Startup Mentor and Manoj Mishra Director – Finanza Holdings Pte Ltd, Singapore.
The startup festival was sponsored by Star Engineers, Bank of Baroda, Shree Balaji University Pune, Shirke Constructions, L&T and Brothers Institute as Incubation Partners. The program was coordinated by Pimpri Chinchwad Municipality, Smart City, Auto Cluster, Incubation Center and Smart Sarathi Team.