Pune – City's newest art hub, Vesavar Art Gallery, inaugurated its highly-anticipated solo artist exhibition 'Roar – From Bengal to Pune' on September 6. The art exhibition centered around the theme of Sunderban tigers, is aptly named "Roar," and features the exceptional artistic talents of the celebrated artist, Bappa Bhowmick.
The opening was held in Pune in the presence of Praveen N R, Chief Conservator of Forests, Maharashtra Forest Department, Pune. His participation added a significant environmental perspective to the event, aligning with the exhibition's focus on protection and conservation of tigers, commemorating the 50 years of 'Project Tiger', a movement initiated by the Government in 1973, to protect Bengal Tigers.
"This art exhibition is a noble way to build awareness about our rich wildlife. There should be more and more such exhibitions and awareness events in our city as well as across the country, and I along with my department would be honored to support the various causes attached to wildlife conservation."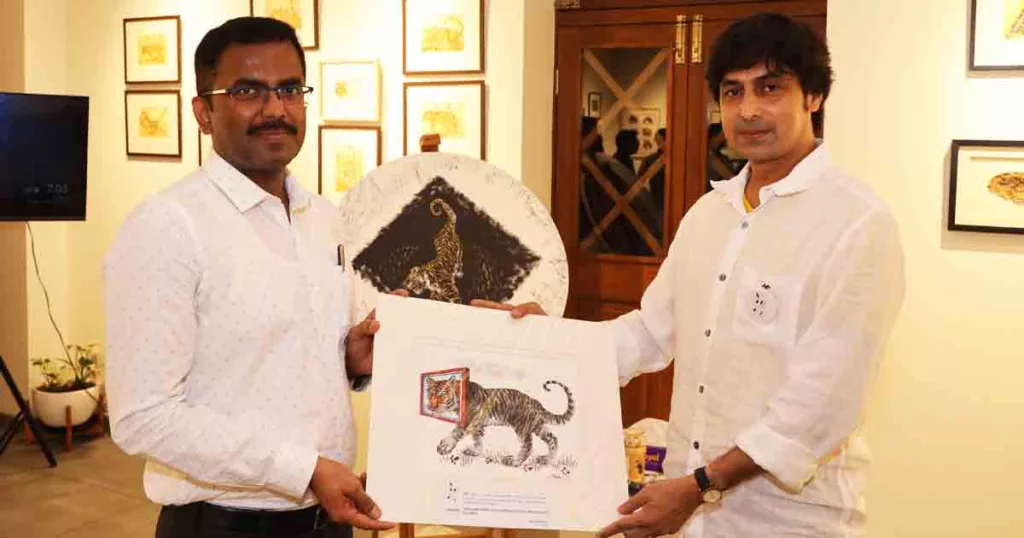 The art gallery along with artist Bappa Bhowmick will donate part of the earnings from the exhibition towards the welfare of various NGOs working in wildlife conservation.
Sharing his excitement on showcasing for the first time in Maharashtra, Bappa Bhowmick said, "I am honored to be in Pune, and very humbled by the response and support I received from Vesavar Art Gallery founders Kavita Bhandari and Pranali Harpude. The collection of my paintings at the display here are my hard work of the past 6 months. I have worked with various mediums to showcase the Royal Bengal Tigers of the Sundarbans, such as postcards, leaves, gramophone records."
Talking about his film 'Territory' and being a part of this exhibition, actor Sandeep Kulkarni said, "I'm truly excited about the release of 'Territory.' It's a film that has received immense appreciation in International film festivals, and its focus on tiger protection adds a unique thrill to the story. This exhibition aligns perfectly with the film's subject, emphasizing the importance of preserving these majestic creatures." 
The director of the film, Sachin Shriram said, "I come from Yavatmal District in Maharashtra, and grew up listening to incidents of tiger poaching and village folk. The subject is very close to my heart. I am mesmerized by the works of Bhowmick. We all are here to support the cause of tiger conservation, and this has been a great platform to spread awareness through our respective mediums of art." 
The launch also saw the unveiling of Bappa Bhowmick's literary endeavor—'Art of Bappa Bhowmick'. A captivating book that further explores the mystique of the Sundarban tigers, insects, and human nature, captured by Bhowmick, through contemporary paintings and drawings.
The exhibition promises to be a must-visit for art enthusiasts and wildlife admirers alike. It is open to the public at Vesavar Art Gallery, Pune East Street till September 27, every day from 10.30 am to 7.30 pm.