Diwali Pahat : Awadhoot Gandhi And Ajit Kadkade To Perform For First Time In Pimple Saudagar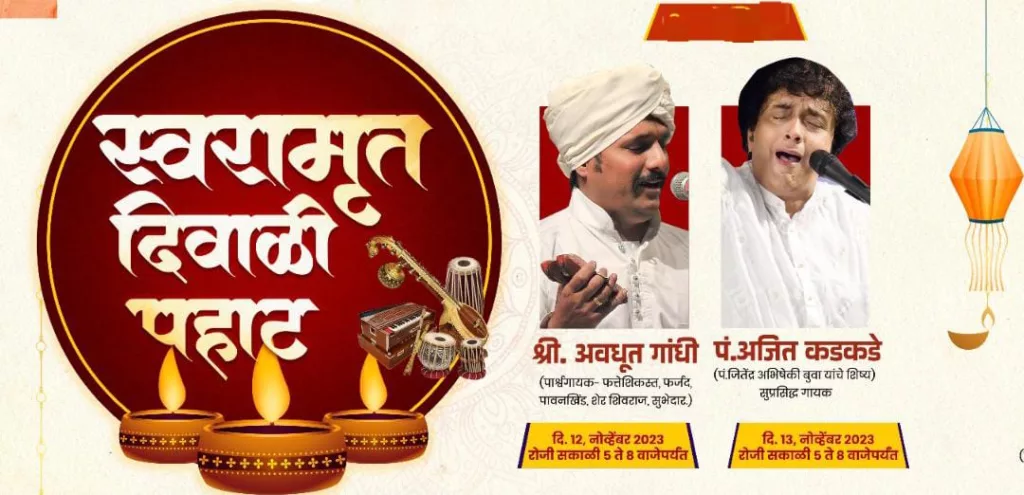 By: Pune Pulse
November 10, 2023
Pune: For every Diwali, several Diwali Pahat programs are organized in Pune, Pimpri Chinchwad & other places.
Similarly, Unnati Social Foundation has organized "Swaramrut Diwali Pahat" & "Swaramrut Diwali Sandhya" program in Pimple Saudagar where people will get mesmerized by music & singing. The President of Unnati Social Foundation is Dr Kunda Sanjay Bhise.
As per further information, the programs will be organized from November 12 to November 14. Following is the schedule of the Diwali Pahat program:
· Swaramrut Diwali Pahat
November 12 (Sunday) from 5 am to 8 am
Avadhoot Gandhi
November 13 (Monday) from 5 am to 8 am
Pt Ajit Kadkade (disciple of Pt Jitendra Abhisheki)
· Swaramrut Diwali Sandhya
November 14 (Tuesday) from 6 pm to 9 pm
Anjali Gaikwad & Nandini Gaikwad
The programs will take place at Linear Garden, Govind Yashda Chowk, Near State Bank of India, Pimple Saudagar.
The Unnati Social Foundation wishes all a very Happy Diwali & encourages everyone to attend & enjoy both the programs.
Shreyas Vange