Award-winning artist Bhagwan Chavan holds first solo art exhibition in Pune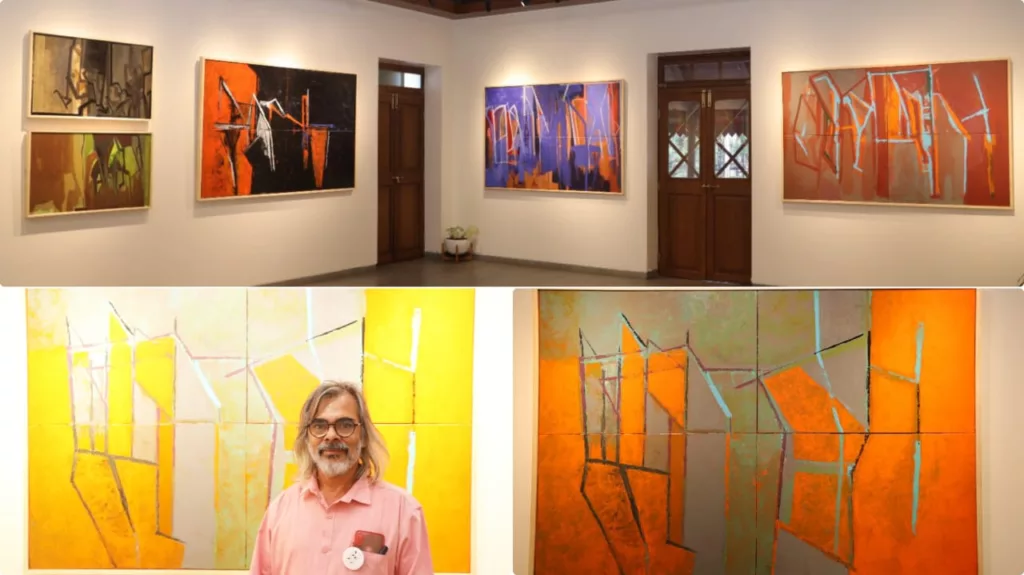 In view from November 5 to January 3 in Pune, the solo art show named 'Rajatva' represents Chavan's unique abstract paintings that celebrate 75 years of India's struggle for Freedom
Pune – The heritage art hub of Pune, Vesavar Art Gallery, brings "Rajatva", a solo art exhibition featuring abstract paintings by National Award-winning artist, Bhagwan Chavan.
This exhibition is on till January 3, 2023, and promises to be a remarkable showcase of Chavan's artistic journey and a heartfelt homage to India's 75 years of Freedom.
The renowned artist, Bhagwan Chavan, is known for his unique abstract paintings.  With a deep commitment to his craft, he has been honored with a National Award for his outstanding contributions to the world of art. "Rajatva" marks his first solo show in Pune, making it a significant milestone in his artistic career.
The exhibition 'Rajatva' aims to highlight the struggles our countrymen went through pre and post independence to gain freedom – the historical significance, and the evolving role of the people in shaping our society. Through this show, Chavan wants to inspire thoughtful conversations, and introspection. He draws inspiration from the symbolism of the Indian National flag, using its colors to express his solidarity with the nation. The saffron, white, and green colors are represented as symbols of strength, peace, and growth, respectively.
The artistic journey of Chavan has been influenced by his masters at J.J School of Art, where he learned to seek the spiritual through abstraction. His work is a poetic expression, a controlled exploration of human emotions, and a celebration of freedom through dynamic strokes on canvas. His paintings resonate with themes of ecstasy, struggle, and various "rasas", offering myriad interpretations through symbolism and emotion.
In the words of Bhagwan Chavan, "15th August, 1947 is etched in our memories as a day of freedom. My work is a celebration of this freedom, an artistic interpretation that goes beyond mere symbolism. It embodies the essence of the freedom struggle and the Gandhian philosophy of Swaraj, Swadeshi, and Satyagraha, which laid the foundation for our nation's aesthetic way of life."
The 'Rajatva' exhibition will be open to the public from 10.30 AM to 7.30 PM at Vesavar Art Gallery, providing an opportunity for art enthusiasts and patriots alike to immerse themselves in Bgahwan Chavan's unique vision.
As we commemorate India's 75 years of freedom, 'Rajatva' is a testament to the artist's commitment to the nation's vision. Bhagwan Chavan embodies Gandhi's philosophy of non-violence and the spirit of being the change one wishes to see in the world through his art.
When: 10.30 am to 7.30 pm, November 5 to January 3
Where: Vesavar Art Gallery, MG Pune Central, East Street, Pune