Declare drought in Maharashtra in view of less rainfall: Jayant Patil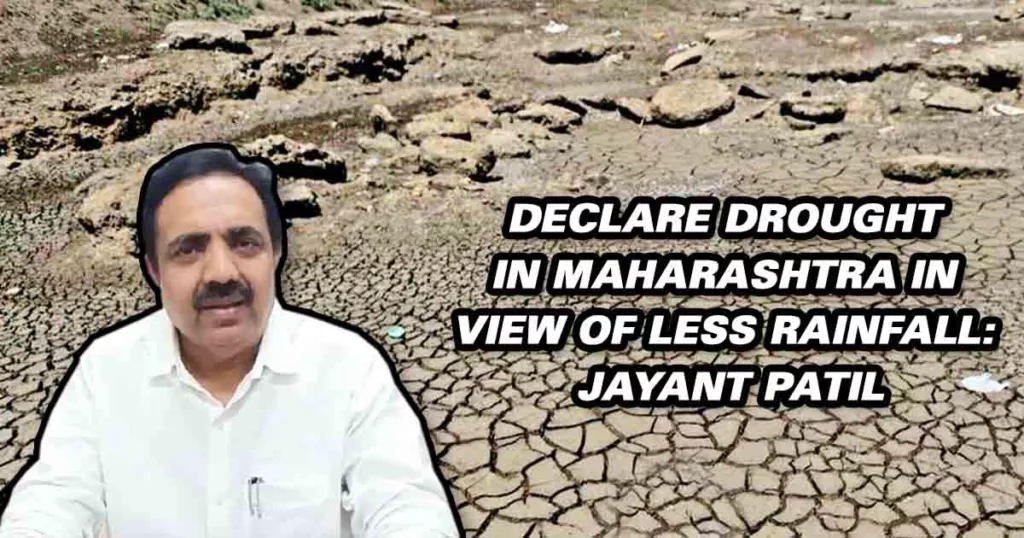 Mumbai, Aug 31 : Nationalist Congress Party (Sharad Pawar Group) stalwart Jayant Patil has written to the Maharashtra government demanding the state be declared as drought-affected.Patil, the state president of NCP (Sharad Pawar Group), drew the state government's attention to the drought situation prevailing in the state following the lack of rainfall.

"The government should declare drought and take necessary measures accordingly, keeping in mind the seriousness of the situation," said Patil. In his letter to Chief Minister Eknath Shinde, Patil expressed fears that the crisis could lead to farmer suicides in the state. Patil stated that 29 percent of the average rainfall occurred in some areas of the state in August.

"At present, the shadow of drought has darkened with a 23 days gap of rain in 329 revenue circles. The Khariff season has been wasted in 18 districts of the state except Konkan. The lowest rainfall has been recorded in Sangli district,' said Patil in the missive, He said the state so far this monsoon season has received 45 percent less rainfall than the average. The drought condition has developed in most parts of the state. Khariff crops are under threat due to low rainfall," he said.

Most of the crops in the Khariff season have been damaged and fodder crops hit, leading to a severe shortage of fodder for animals. Due to this, a big challenge has also arisen for the farmers of the state to save livestock.
Due to the shortage of rain, there is not even enough water storage in the dams to release the canals for irrigation. Also this year due to the effect of El Nino, the amount of rainfall is likely to be less, said Patil. Overall, the possibility of a drought situation in the state in the coming period cannot be ruled out, he added.
Patil has predicted that if drought happens, farmer suicides will increase.