Diwali: The ever-popular Indian festival of lights. Know More.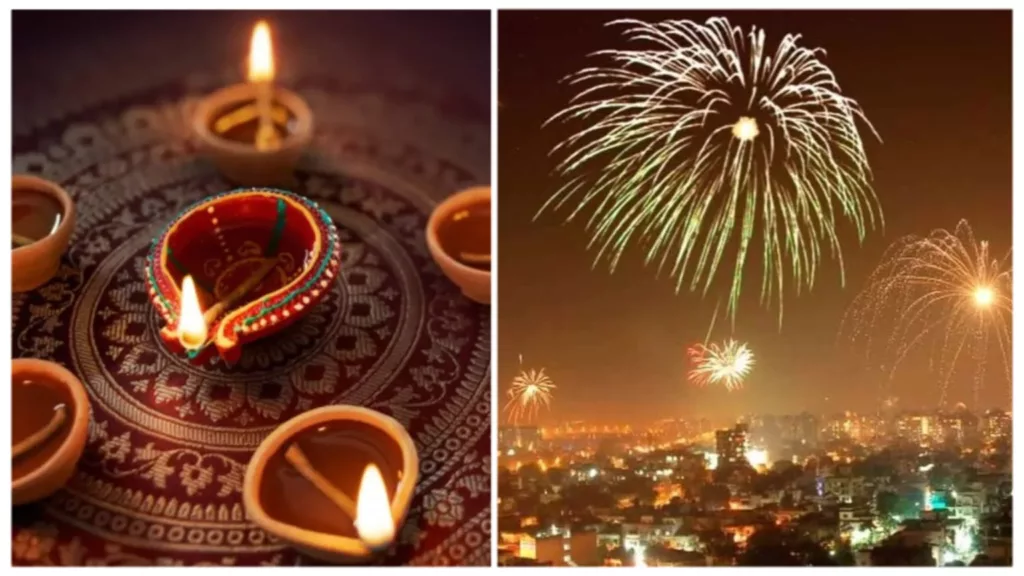 By: Pune Pulse
November 7, 2023
Pune: In India, Diwali, also known as Deepavali, is the biggest and most significant festival of the year.
Indians light a row (avali) of clay lamps (deepa) outside their homes to represent the inner light that guards against spiritual darkness, hence the name of the festival is Deepavali or Diwali.
Why is Diwali Celebrated ?
History : 
Diwali is associated with several religious occasions, figures, and events. For example, it marks the day that Rama, along with his brother Lakshmana and wife Sita, returned to his kingdom in Ayodhya following his victory over the demon king Ravana.
It is also closely linked to Ganesha, the god of wisdom and the remover of obstacles, and Lakshmi, the goddess of prosperity. The holiday is associated with Vishnu, Krishna, Durga, Shiva, Kali, Hanuman, Kubera, Yama, Yami, Dhanvantari, or Vishvakarman according to other regional customs.
Religious Significance : 
Within India, different regions have different religious significance for Diwali. According to one tradition, the celebration has its roots in the Hindu epic Ramayana. On Diwali, Rama, Sita, Lakshmana, and Hanuman arrived in Ayodhya following a 14-year exile, having vanquished Ravana's army of evil with the help of Rama's army of good. Hindus celebrate Diwali as a reminder to uphold their dharma in daily life, as Rama's decisions were always in accordance with dharma, or duty, throughout the epic.
Another popular legend states that during the Dvapara Yuga period, Krishna, an avatar of Vishnu, freed sixteen thousand girls held captive by the demon Narakasura and killed the evil king of Pragjyotishapura, which is located close to modern-day Assam. As a symbol of good triumphing over evil, Diwali was observed following Krishna's victory over Narakasura. Naraka Chaturdashi, the day before Diwali, is celebrated as the day that Krishna killed Narakasura.
Also, Goddess Lakshmi, who was born in Samudra Manthan, is celebrated on Diwali. It was the gods and the demons churning the cosmic ocean of milk. Contrary to popular belief, Lakshmi chose and married Vishnu on the eve of Diwali.
After being duped into losing a wager, the five Pandava brothers were banished for a year by their Kaurava cousins. The Pandavas made their way back to Hastinapur on Kartik Amavasya, according to the Hindu epic Mahabharata.
The Diwali festival is observed as a historical occasion in Sikhism. On the occasion of Diwali, the Mughal Emperor Jahangir freed 52 Hindu Kings, including the sixth Sikh Guru, Guru Hargobind.
Another widely held story is that Diwali, which falls on the last day of the harvest season before winter, was once a harvest festival.
Kamalatmika Jayanti, which falls on the day of Diwali, is a celebration honoring the final incarnation of Goddess Mahakali, according to the Kalikula sect of Shaktism. West Bengal, Odisha, Mithila, Sylhet, Chittagong, and the Maharashtra town of Titwala all celebrate Kali Puja.
In Jainism, the celebration of Diwali marks the anniversary of Mahavira's soul's Nirvana. In the current cosmic era, he was the twenty-fourth and last Jain Tirthankara. On Chaturdashi in the month of Kartik, Lord Mahavira achieved moksha or liberation.
The Diwali festival also marks the beginning of the New Year in some northern Hindu communities in India and states like Gujarat.
It is also thought that Goddess Lakshmi was freed from King Bali's prison by Lord Vishnu. On this day, Lord Vishnu ordered King Bali to be banished to rule the netherworld.
There might be several other reasons & theories of celebrating Diwali in other regions. However, a common reason for celebrating Diwali is recognizing the emotion of 'triumph over evil'.
Days of Diwali
For the year 2023, Diwali will be celebrated on the below-mentioned dates:
· November 10 (Friday) – Dhanteras
· November 11 (Saturday) – Chhoti Diwali
· November 12 (Sunday) – Lakshmi Pujan
· November 14 (Tuesday) – Balipratipada, Diwali Padava, Govardhan Puja
· November 15 (Wednesday) – Bhai Dooj
Food & Snacks of Diwali
Everyone loves some lip-smacking & scrumptious food & snacks specially prepared during Diwali. Here are some of the popular snacks made at Diwali:
· Chakli
· Laddoo
· Chivda
· Sev
· Shankarpali (Sweet & Namkeen) / Shakarpara / Namakpara
· Karanji
· Anarse
· Murukku
Chirote
Mawa Khwaja
· Mathri
& many, many more!!
Celebrating Diwali
It is essential to have lights, in all their forms, in order to celebrate this five-day festival of lights. The diya, a clay oil lamp, is the source of the name of Diwali. Diyas are tiny, hand-crafted cups filled with oil that have flattened rims and vibrantly colored paints. Half of a cotton wick is submerged in oil and the other half is resting on a tiny shelf around the diya's edge.
Families erect rows of oil lamps along the balconies, entryways, and foundations of their homes throughout India, giving rise to another name for the festival: Deepavali. Avali, which translates to "rows or clusters of lamps," and deep, another name for the oil lamp. The purpose of these rows of diyas, or tea lights, is to attract Lakshmi, the goddess of wealth and well-being, into the house and drive out darkness, fear, and ignorance.
On the main day of Diwali, many families will get dressed up in new clothes before attending temple visits or holding religious ceremonies.
Sharing delectable desserts with friends and family is just as important as looking well. Candy plays a huge role in the Diwali festivities. The candies represent putting past grudges behind and letting go of grudges.
Another common way to celebrate Diwali is with visual decorations like rangolis, which are creations made with colored sand, flowers, or other materials. Frequently situated close to the family's front door, these patterns feature Lakshmi's favorite motifs—lotuses, elephants, conches, om, and footprints.
Diwali or Deepavali is widely regarded as the 'Festival of Lights'. The entire Pune Pulse team wishes everyone a very Happy, Colorful & Bright Diwali.
Shreyas Vange