Graceful Arangetram program held in Sangvi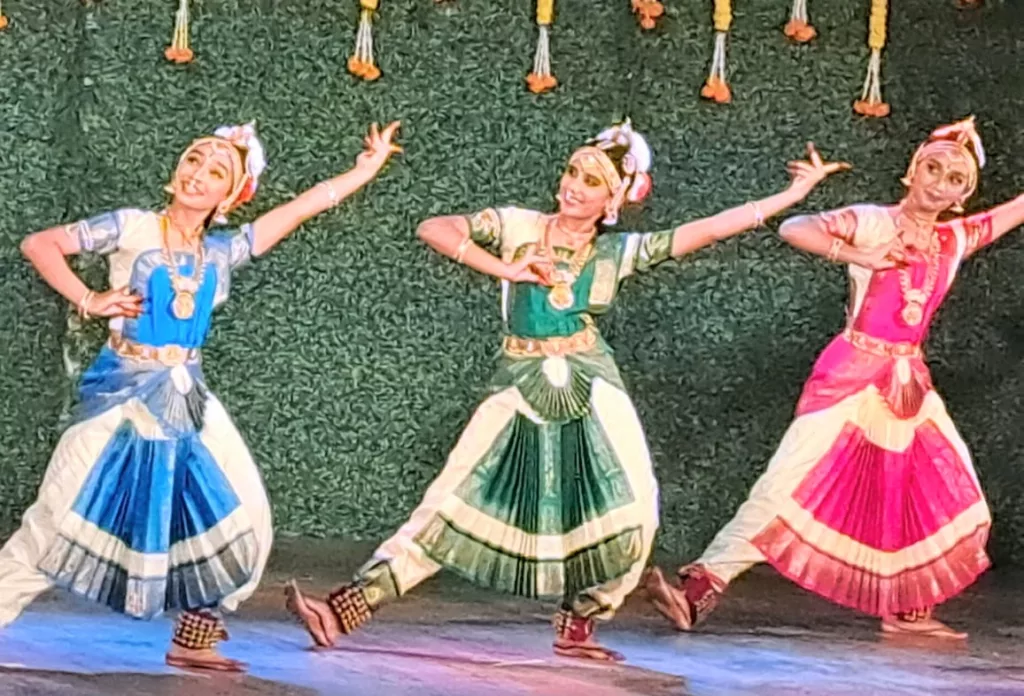 By: Pune Pulse
November 20, 2023
Pune: A unique program of 'Arangetram' in BharatNatyam dance style was organized on Saturday (November 18, 2023) at Natsamrat Nilu Phule Theater at Sangvi, of Pimpri-Chinchwad Municipal Corporation.
The performance of the thirteen-year-old girls Kumari Chinmayi Deshmukh, Kumari Sharwari Muluk and Kumari Avni Kulkarni, disciples of Guru Mausam Mehta, Director of the Blossom Dance Academy in Wakad, continued for three hours.
As per information, in dance form, 'Arangetram' means taking the first step on the stage with a dedicated attitude towards the performance of your art after nearly eight years of tireless hard work. The girls mesmerized the audience with their performance and kept them glued to their seats. The girls were being trained in Bharatanatyam from the age of four or five.
The program started with Shiva-Vandana composed by Adya Shankaracharya from the dance form 'Pushpanjali' and emotional salutations to all the expert players on the stage and the audience. Then, the beautiful combination of Mridang, Ghatam, Violin, Flute, Taal, Guru Shri Shiv Prasad's Raagdari melodious singing and the performance of the three girls kept the audience glued to their seats.
The program can be briefly described as precise Padanyaas to the beat of the instrumentalists and singers, Bhrukuti Vibhram, Nayan Vilobhan, Hasta and Karagra Laghav, extravagant costumes to suit each dance form of the jodi, beautiful make-up and impressive light and sound scheme. All three dancers maintained their mutual coordination and awareness and performed in such a way that no one even felt that they were amateurs or novices.
Jaati Swaram (Raga Kalyani, Taal Rupak), Shiva Prathanna (Raag Revati, Taal Aadi), and Muthu Swami Dixit composed Dashavatar (Raag & Taal Revati) were very impressive. Through their dancing, they felt that they were experiencing the compassion of Shri Krishna Leela, Saint Narsi Mehta and Saint Mirabai, Ram-Ravan war, Shiv Tandav, Sheshashayi Vishnu Shayan, Asur Vadh.
With each dance act, they took their performance to a higher level. The bonding of those thirteen-year-old girls on the stage was no less than any professional artist.
Shama Bhate, the famous dancer of the Kathak dance style of India, was present as the inaugurator of this program and Anjali Bagal, a renowned teacher of 'Moksha Nritya Prashala' was present to give blessings. Arjun award-winning shooter Anjali Bhagwat, Principal of Blue Ridge School, Hinjewadi Surinder Sayan and former corporator Aarti Chondhe were the chief guests.
In her address, Shama Bhate highly appreciated these girls, their hard work and their Guru Mausam Mehta. Bhate further said, "I am proud that a hard-working, sharp-witted disciple like Mausam has produced talented and intelligent artistic disciples like her."
Anjali Bhagwat emphasized the importance of guru-disciple tradition and said how difficult it is to become a good guru in any art or sport. It was evident from personal experience and the debut performance of these disciples created by Guru Mausam Mehta. Principal Surinder Sayan said that she is proud of these girls and blessed them for their careers.
The manner in which all three girls expressed their feelings in the beginning and in the end of the program showed the awareness of their hard work, respect for Guru, and commitment to family. Although Guru Mausam could not speak Marathi well, she expressed her love for her disciples.
Chinmayi's father Anay Deshmukh, who is a famous paediatrician from Wakad said that the credit for all this success is due to Guru Mausam Mehta and expressed gratitude for treating her students like children.
Similarly, it was emphasized that this program has attained a different height because of the famous Guru Shiv-Prasad and his team who have supported thousands of dance programs on the national and international stage to support this program.
He also said that the Pimpri Chinchwad Municipal Corporation has preserved its cultural heritage by making the beautiful theatre built in the name of Natasamrat Nilu Phule available to talented artists and interested audiences.
The organizers showed a great deal of respect by felicitating the present chief guest, the band and the grandparents of the three girls. Snehal Damle, anchor & presenter, conducted the program.
Shreyas Vange