Keshav Nagar residents demand development from PMC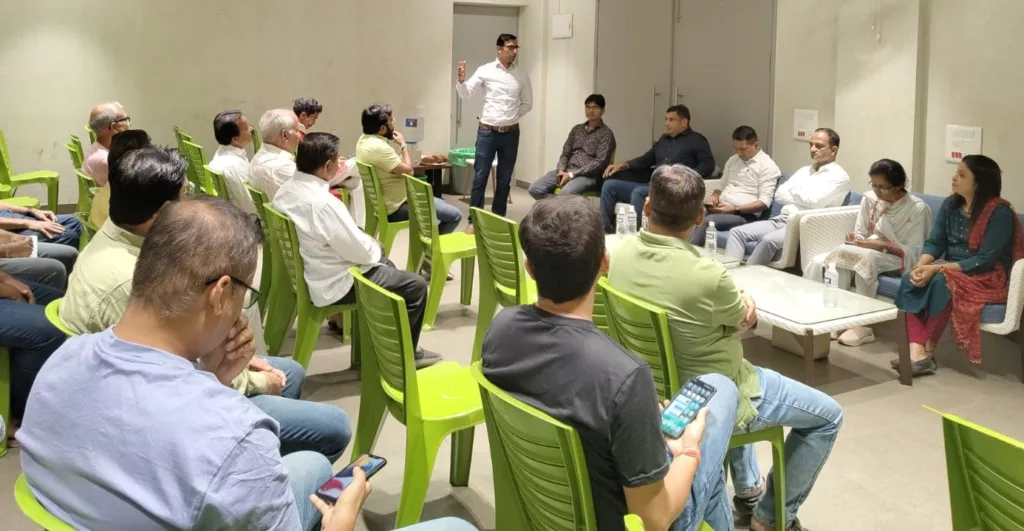 Pune, November 1 : – The residents of Keshav Nagar, a locality that has been part of the Pune Municipal Corporation (PMC) since 2017, are unhappy with the lack of development and basic amenities in their area.
They expressed their grievances to the Deputy Commissioner Prasad Katkar and the Assistant Commissioner Dhawale Patil, who visited the Godrej Infinity at Keshav Nagar yesterday.
The representatives of the Keshav Nagar Association, a registered body under Section 8 of the Companies Act, 2013, that consists of 40 societies representing over 8000 flats in Keshav Nagar, met with the PMC officials and raised their issues.
The main objective of the Association is to work with the Government Authorities for their own rights.
Sudhir Shrivastav, Director of the Keshav Nagar Association, said, "We have been following up with PMC officials including Mr. Katkar and others for several months but we have not seen any progress on our issues. Even in the meeting with Mr. Katkar yesterday, we did not receive any concrete solutions for our problems. The maintenance of road, lights, garbage, illegal construction fall under their jurisdiction only. The residents of Keshav Nagar are facing a lot of difficulties every day."
He also added, "Regarding Garbage – There is no proper garbage collection system. There is a huge garbage dump behind Mantra Insignia Society but no action has been taken by them. I even invited them to come with me up to Eon Kharadi through the back side road and risky single lane bridge. There is more than one kilometre of garbage along the way. Mr. Patil, Assistant Commissioner was informed about the slums behind Vertical Oriana Society but no action has been taken by them till date. This is a big threat for the whole Keshav Nagar area."
Chaitanya Sharma, another Keshav Nagar resident, said that it is good that PMC came to meet them but now they want to see actions and not just plans and promises. "We pay hefty tax and on top of that we pay water charges for tankers from our pockets. If the water problem will take time, then at least roads traffic and other things should be acted upon immediately. Even small towns and villages across India have good roads and other facilities. Keshav Nagar seems to be not even in consideration for PMC. People are experiencing major spine and back problems due to bad roads and traffic. At least act on one of our concerns."
Another resident said, "They make roads and the roads come off in a few weeks, then they put more stone gravel and we have to ride on that. If tomorrow those stones hit someone's head or if there are major accidents then who will be responsible?"
Pankaj Saxena, Chairman of Godrej Infinity, said, "For the issuance of completion certificate or NOC by PMC, the builders make promises and confirm in writing that they will be responsible for ensuring the supply of basic necessities like water, road and street lights at their cost till the time PMC infrastructure is in place. However, there is no check or monitoring on the same by PMC and residents are in huge pain for not being provided with these three basic necessities either by the builders or PMC. We request some punitive action against the builders for defying their commitments. Their future NOC or CC should be stopped till the time their previous promises are fulfilled."
The residents of Keshav Nagar urge the PMC to take immediate steps to improve the condition of their locality and provide them with the basic amenities that they deserve as tax-paying citizens.