Mukesh Ambani Under Threat Again: Third Demand of ₹400 Crores in Extortion Email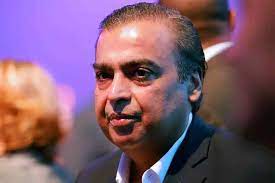 Police stated on Tuesday that an anonymous individual has sent a threatening email to Mukesh Ambani, the Chairman of Reliance Industries, demanding ₹400 crore.
According to an official, Mukesh Ambani's company received the third threatening email on Monday, marking the third such communication within four days. Previously, a complaint had been filed with the Gamdevi police station after the first email demanding ₹20 crore arrived on Friday. Subsequently, the company received a second email on Saturday, this time demanding ₹200 crore. The sender of the third email on Monday doubled the demand to ₹400 crore.
Efforts are underway by the Mumbai police, including their crime branch and cyber teams, to track down the sender of these emails, the official confirmed.
In a separate incident last year, the Mumbai police apprehended an individual from Bihar's Darbhanga for making threatening phone calls to Mukesh Ambani and his family members. The arrested individual had also issued threats to detonate the Sir H N Reliance Foundation Hospital in Mumbai.