Pune : Immersion procession of five revered Ganpati completes after 9 hours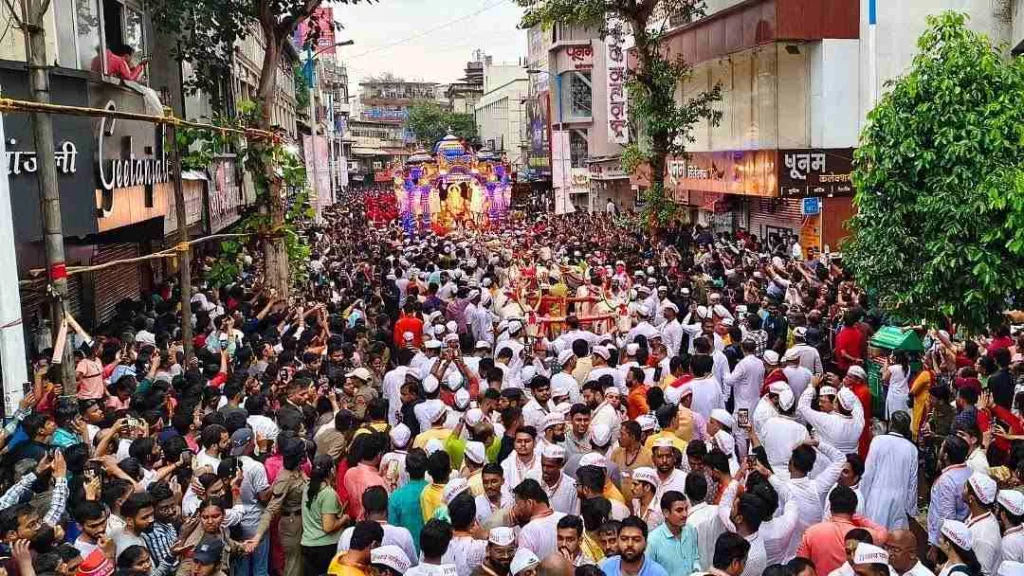 By: Pune Pulse
September 28, 2023
Pune: The immersion procession of all five revered Ganpati idols has been successfully completed, taking over nine hours to accomplish. Currently, preparations are underway for the immersion of Shrimant Dagdusheth Halwai Ganapati, along with other Ganesh idols on the procession route, which will be immersed shortly after.
As per the information provided, devotees bid farewell to the five revered Ganpatis of Pune using traditional methods, accompanied by the dhol tasha.
The first immersion of Kasba Ganapati occurred at 4:36 p.m., followed by the second immersion of Tambdi Jogeshwari Ganapati at 5:12 p.m. Subsequently, the third immersion of Guruji Talim Ganapati took place at 5:53 p.m., followed by the fourth immersion of Tulshibagh Ganpati at 6:32 pm, and finally, the fifth immersion of Kesariwada Ganpati at 6:59 pm.
Meanwhile, the Ganapati of Shrimant Dagdusheth Halwai Mandal left around 3:30 p.m. and joined the main procession for the first time this year. However, the idol is yet to be immersed, and the procession will pick up speed once this is done.
As per the information received, the trust decided to depart with Ganpati earlier this year to avoid delays in the main procession caused by the departure of Dagdusheth Halwai Ganapati at night. This year, the procession is expected to be completed in less time than usual.