Pune International Marathon To Be Held On December 3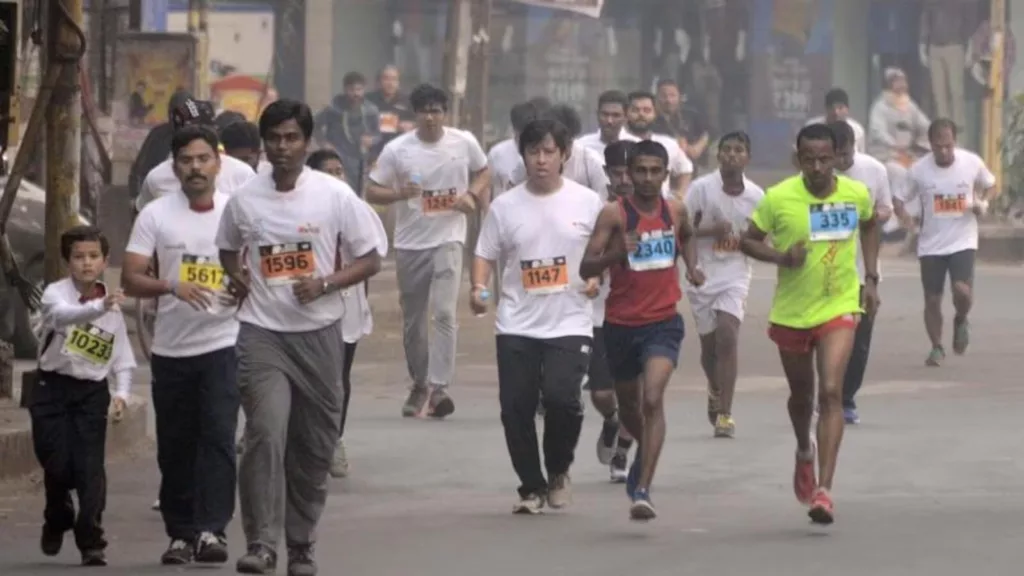 The Pune International Marathon, hailed as India's oldest marathon, celebrates its 37th year in 2023 with a significant change. In response to ongoing traffic-related challenges in Pune city, the marathon will kick off at 3:30 AM on December 3, offering a solution to the issues posed by midnight races held in the past two years.
The race route, spanning 42.195 kilometers, will begin at Sanas Ground Chowk, proceeding through Saras Baug, Sinhagad Road, Nanded City's inner circle, and back to Sanas Ground Chowk. The marathon's adjusted schedule aims to wrap up all races by 8 AM, providing relief to the city's midnight traffic congestion.
This year's schedule features the full marathon (42.195 km) commencing at 3:30 AM, followed by the half marathon (21.0975 km) at 4:00 AM, the 10 km races at 6:00 AM, and the 5 km races at 6:30 AM, open to both men and women. Additionally, a three-kilometer wheelchair race will start at 6:45 AM, followed by a three-kilometer family run at 7 AM. All races will conclude at Sanas Ground Chowk, with the prize distribution ceremony scheduled for 8 AM.
The 37th Pune International Marathon embraces the motto "Run for Environmental Awareness."
Over 12,000 participants, including men, women, and families with children, are expected to register in six different categories. Online registration is now open on the website www.marathonpune.com, with the deadline set for November 25, 2023. An entry fee applies, and early registrants will benefit from discounts. For corporate or group bookings of 25 or more, inquiries can be made at office.pimt@gmail.com.
The Pune Municipal Corporation will reward the marathon's winners with cash prizes totaling Rs 35 lakh.
Participants in the full marathon category of the 37th Pune International Marathon will receive specific marks (points) based on their recorded times, determining their eligibility for entry into the Wanda World Championships Marathon in Chicago, USA.
The route has been measured and approved by the "AIIMS Institute, New York," meeting "World Athletics" rules and the conditions set by the Athletics Federation of India, New Delhi. The route will provide facilities such as drinking water, syrups, fruits, energy drinks, sponging points for athletes, medical aid, ambulances, motorcycle pilots, cycle pilots, police presence, journalist accommodations, proper street lighting, and mobile toilets. A temporary hospital will be established at Sanas Ground.
The Pune District Amateur Athletics Association's Technical Officials and Route Umpires will oversee the event, while volunteers from Ganesh Mandals and various sports groups will support route management on Sinhagad Road-Marathon.
Mr. Sumant Waikar serves as the Race Director, Mr. Baptiste D'Souza as the Technical Race Director, Mr. Vasant Gokhale as the Joint Technical Race Director, and Ms. Gurbans Kaur as the Joint Race Director. Dr. Rajendra Jagtap leads the medical committee, with over 400 members from Pune's medical institutions providing care to runners along the route and post-competition.
The 37th Pune International Marathon anticipates participation from more than 70 international male and female runners from countries like Kenya, Ethiopia, Tanzania, Mauritius, South Africa, America, and Europe, alongside contestants from across India. Around 400 runners representing the Army, Railway Board, and national champions will challenge foreign competitors.
Similar to the previous year, the first three male and female winners from the 6th Sarhad Full Marathon in Kargil (Ladakh province) will also partake in the 37th Pune International Marathon. These details were shared by Pune International Marathon Trust's Trustee Adv. Abhay Chhajed and Trustee and Joint Race Director Mr. Rohan More during a press conference.