Pune : Janmashtami Celebrations in Undri Leaves Devotees Spellbound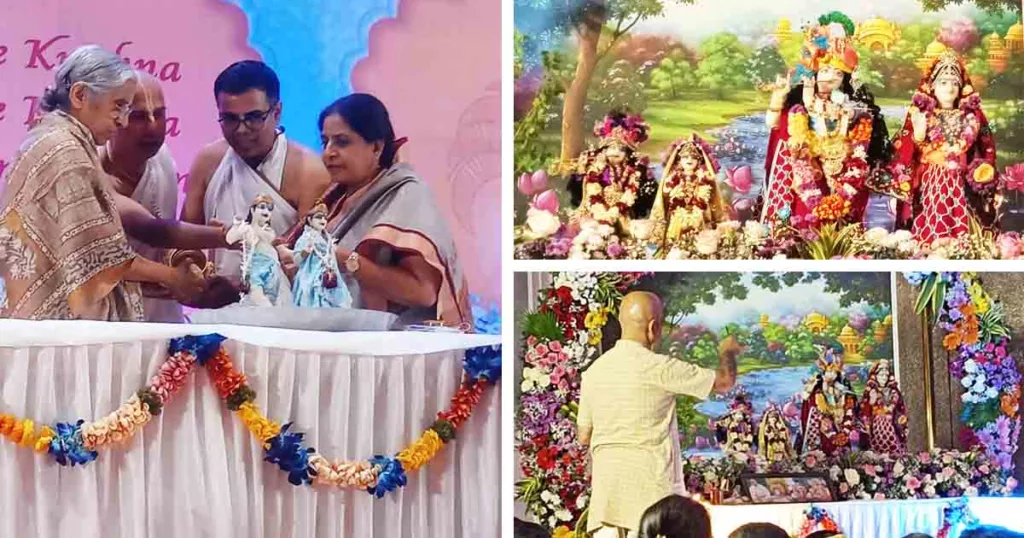 Despite a heavy downpour, a multitude of devoted attendees flocked to The Corinthians Club and Resort in Pune for the inaugural Sri Krishna Janmashtami Utsav on Saturday.
With over 500 residents from Undri, NIBM, and Nyati County in attendance, the festival was truly remarkable.
The event was organized by the Undri Gita Rahasya team, a dynamic group of ISKCON Pune devotees known for their Sunday classes dedicated to the study of Bhagvad Gita and its practical applications. 
The festivities commenced with melodious bhajans, an abhishek ceremony for Lord Krishna and Radha, and an enlightening discourse on the teachings of the Bhagvad Gita.
A diverse array of cultural performances followed, leaving the audience spellbound. "Sankirtanam The Rock Band," a vibrant group of devotees dedicated to spreading the message of bhakti through music, kicked things off with a fusion of devotional songs and contemporary music that had the audience dancing and singing along.
The Undri Gita Samskar kids captivated everyone with a mesmerizing dance drama portraying Dashavatar and Chitchor Gopal. Noopur Dance Academy treated the audience to fantastic kathak performances, and the cultural program concluded with an exhilarating Mridanga performance by the children.
The Maha arti brought everyone to their feet, and the event wrapped up with a delectable dinner Prasad for all.
Those interested in the programmes organised by the team can connect with Undri Gita Rahasya at 8879326526 or 8411052004.