Pune : PMC Likely to Demolish Flyover Pillar on Sinhagad Road Due To Flaws Revealed In Inspection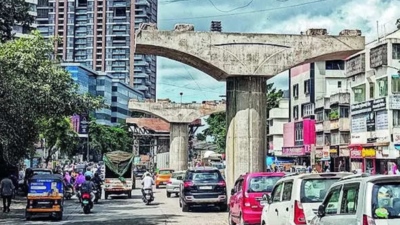 After cross-checking the project work during a recent inspection, the civic body may decide to dismantle one of the ten pillars installed for the Sinhagad Road flyover due to deficiencies in it.
As per information provided, there might be some problems with the design and quality of the material used in the pillar. The decision of demolishing or refurbishing it will be made based on the amount of damage it could cause. PMC is cross verifying the work to ensure the safety and security of the entire project.
Pune Pulse tried to contact the relevant PMC officials but couldn't connect while reporting.
The civic administration is very concerned about the safety of this flyover and the commuters who will be using it once it is finished.
Several activists have been voicing their worries about design flaws and poor workmanship that could cause a lot of damage to the flyover and put people's lives in danger. Their plight is that people need to be held accountable and asked the civic administration to take tough action against the people in charge of the project and whoever is responsible for any delays.
The purpose of the Sinhagad Road flyover project is to provide relief to the commuters by reducing the traffic in the area. This flyover is planned to connect the Rajaram Bridge to the Fun Time Theatre in Vadgaon area.
Residents have stressed on the need for the project to be completed in a timely manner as the area is currently facing traffic and congestion problems. The project is scheduled to be completed in 2025.
Work on the flyover near Santosh Hall was temporarily suspended earlier this month due to technical difficulties. However, the issues were rectified and the construction of the flyover has resumed under the control of the PMC.
Shreyas Vange