R Euphoria in society in Kondhwa Holds Teachers' Day Programme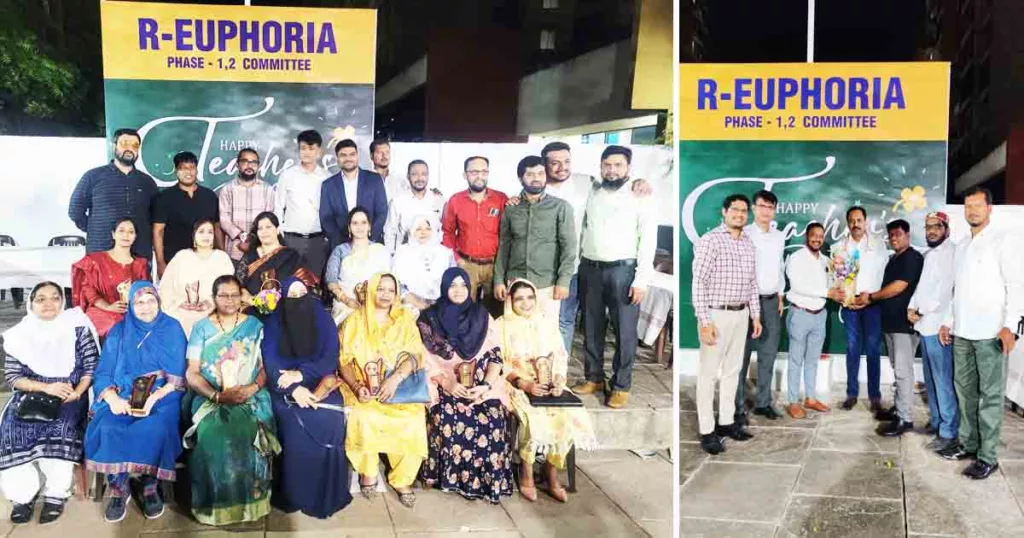 By: Pune Pulse
September 6, 2023
Pune: A residential society in Kondhwa, R Euphoria, conducted a wonderful event of felicitating several teachers on the occasion of Teachers' Day on September 5.
As per information shared by Shaad Tambe, Secretary of R Euphoria Phase 2, Kondhwa the society was very elated & happy to conduct a Teachers' Day event to convey thanks to all the teachers shaping the future. Over 300 people were present at the Amphitheatre of the society to celebrate this event. The committee of the society felicitated 25 teachers from various schools like St Helena's School, Sanskriti School, Pearl Drop School, Anjuman Islam, HDFC School (Pune), Fashion Institute, Moledina School and more.
The event was conceptualised by Shaad Tambe, secretary and Anwar Faridi while Chief Guest of the programme were Digambar Hausare, Deputy Registrar Pune City 4 who graced the event with his presence.
The programme was hosted by Asma Sayyad & Rubina Balbatti, while the teachers felicitated were Hussain Mujawar (Chairman) Shadab Vanoo, Zuber Khan, Anwar Faridi, Zulfikar Syed, Raihan Shaikh, Asif Shaikh, Javed Shaikh, Akil Memon, Amjad Pathan, Rafeeq Bhai, Wahab Dhok, Qasim Lukade and Dr Kadar Aliyani.
On this occasion, a journalist of Pune Pulse was also felicitated for his contribution towards news reporting of several issues in Kondhwa.
Following the felicitation, all the teachers asked questions of general knowledge to all the students & kids present at the event. For every right answer, the student won chocolates.
The event concluded with all 25 teachers getting awards for their contribution towards teaching & building the future of the nation. This event benchmarked one more positive step towards the growth and betterment of society.