Chhath Puja held with great fervour in Pune and Pimpri Chinchwad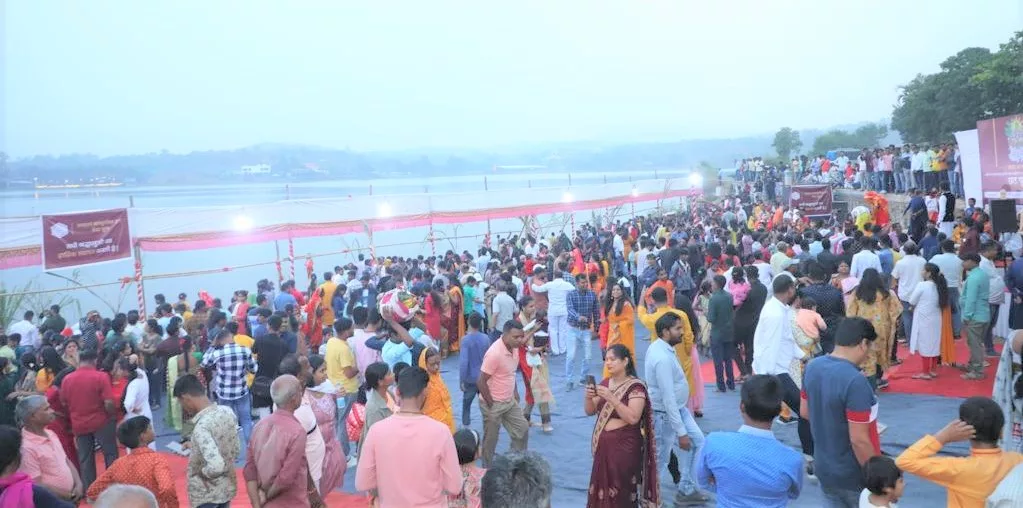 By: Pune Pulse
November 20, 2023
Pune: Chhath Puja is a Hindu festival dedicated to the worship of the sun god, Surya, and Chhathi Maiya (known as Usha in the Vedas), the goddess who is believed to be the consort of Surya. This festival is primarily celebrated in the Indian state of Bihar. It usually takes place six days after Diwali.
As per further information, in the year 2023, Chhath Puja took place from November 17 to November 20. It was celebrated with great zeal & enthusiasm in various locations of Pune & Pimpri Chinchwad like Wadachi Wadi, Pimple Saudagar, Undri, Pisoli, Lohegaon, B T Kawade road, Mundhwa, Viman Nagar, Bhugaon, Moshi, and many more.
Speaking to Pune Pulse, Brajesh Kumar, co-organizer of Chhath Puja in Wadachi Wadi, Pune said, "Chhath Puja is puja of nature. It is most commonly celebrated in Indian states like Bihar, Jharkhand, Eastern UP etc. We have been celebrating Chhath Puja in Wadachi Wadi actively for 1 to 2 years.
There were 40 to 50 families which means around 250 to 500 people were there for the Puja. The main prasad is called Thekua which is prepared from flour & jaggery. Several fruits like Apple, Banana, Orange, Pineapple etc are also offered as prasad."
Here are some key details about Chhath Puja:
Rituals:
• Nahay Khay (Day 1- Nov 17): Devotees take a holy dip, usually in a river, and then prepare a meal without using onion and garlic. This meal is offered to the Sun God.
• Kharna (Day 2- Nov 18): Devotees observe a fast without water throughout the day. In the evening, they break their fast after making offerings to the Sun God.
• Sandhya Arghya (Day 3- Nov 19): Devotees fast for the entire day without water and in the evening, offer arghya (offerings) to the setting sun.
• Suryoday Arghya (Day 4- Nov 20): On the final day, devotees again fast throughout the day and offer arghya to the rising sun early in the morning.
Traditional Songs:
During Chhath Puja, traditional folk songs are sung, known as Chhath Geet. These songs are dedicated to the sun god and express the devotee's gratitude and devotion.
Significance:
Chhath Puja is significant for its environmental and health aspects. The rituals are believed to have detoxifying effects on the body, and the worship of the sun is considered a source of energy and healing.
Chhath Puja was also organized in the Pimple Saudagar area of Pimpri Chinchwad.
Priyanka Trivedi, Resident of Roseland Residency, Pimple Saudagar said, "The Chhath Puja was held within the society premises wherein around 100 people participated."
Sanatan Sanskriti Samiti, along with Bhugaon Gram Panchayat & Bhukum Gram Panchayat, had organized Chhath Puja in Bhugaon. According to Sanatan Sanskriti Samiti, like every year, on November 19 and November 20, 2023, Chhath Puja was celebrated spontaneously at Manas Lake, Bhugaon.
Shreyas Vange