Former Pakistan player alleges of foul play in Indian matches; accuses BCCI and ICC of cheating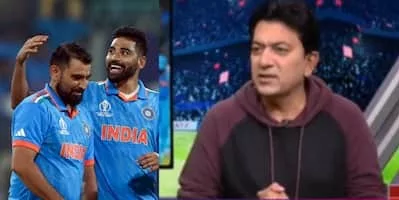 By: Pune Pulse
November 3, 2023
Pune: A Pakistani ex-cricketer has alleged that the International Cricket Council (ICC) and Board of Control for Cricket in India (BCCI) have been involved in foul play during the Cricket World Cup 2023.
According to Hasan Raza, BCCI/ICC have been providing India with distinct balls to aid them in achieving seam and swing movement. Raza, who was a batsman and played for Pakistan in 7 Tests and 16 ODIs from 1996 to 2005, did not have noteworthy performances in international cricket.
Raza, a cricket expert when questioned by the anchor regarding the potential occurrence of foul play in Indian matches that may favor the home team. In response, Raza suggests that there may have been alterations made to the balls used by the Indian bowlers, emphasizing the need for an investigation into the matter.
The anchor further inquired, "Could it be possible that Indian bowlers are provided with a distinct ball? The level of seam and swing achieved by Indian bowlers gives the impression that they are playing on a peculiar bowling wicket, exhibiting an unusual seam and swing."
Raza alleges that the ball is altered when India takes the bowling position, suggesting that either the ICC or BCCI may be providing India with a different ball. Additionally, Raza claims that the third umpire has shown favoritism towards India in World Cup matches. The Indian pace trio consisting of Mohammed Shami, Mohammed Siraj, and Jasprit Bumrah have displayed exceptional form in this World Cup, obtaining remarkable seam and swing. Shami, in particular, has already achieved two five-wicket hauls, accumulating a total of 45 wickets in the tournament, making him the most successful bowler for India. Raza suspects that there may be an issue with the ball used by the Indian pacers.
These are unfounded allegations put forth by a former cricketer and he has faced criticism from others on X (formerly Twitter). Aakash Chopra, a former India opener and cricket expert, came across the viral video on X and expressed his view that it appears to be a parody. Aakash shared his thoughts on his X handle, stating, "Is this a serious cricket show?
If not, please indicate 'satire' or 'comedy' in English somewhere. It might already be written in Urdu, but unfortunately, I am unable to read or understand it." Ayaz Memon, a seasoned cricket journalist, also found it hard to believe that such analysis exists on television. The BCCI has not yet responded to Raza's claims. It is possible that the Indian cricket board may choose to ignore these dubious allegations, as they are not being taken seriously by anyone on social media.