G20 Summit in New Delhi : Kolhapuri Chappal and Paithani Saree from Maharashtra set to feature at Crafts Bazaar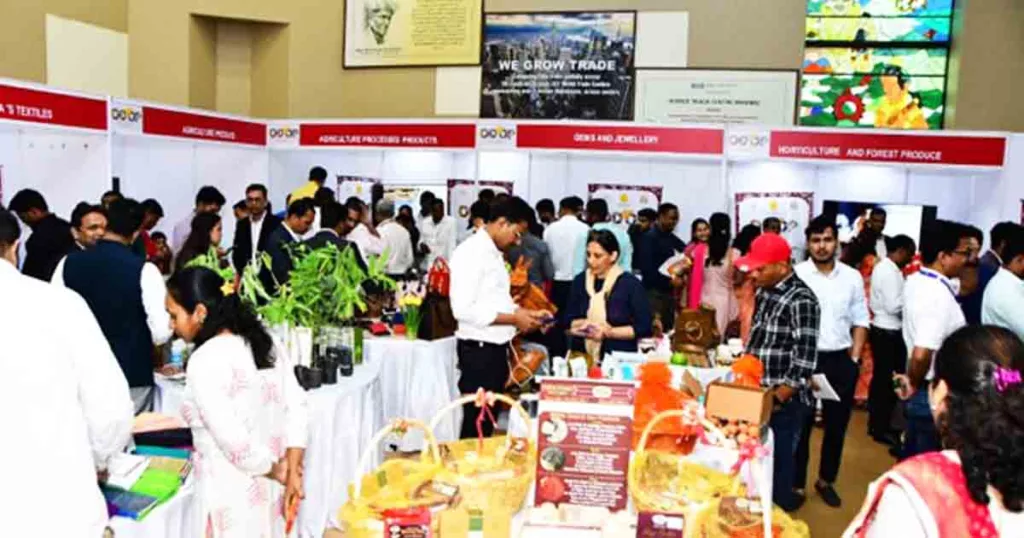 ODOP initiative aimed at promoting one product from each district of the country to enable holistic socio-economic growth across regions.
On the side-lines of the G20 Summit in New Delhi, a 'Crafts Bazaar' (Exhibition-cum-Sale) is being set up in Bharat Mandapam, Pragati Maidan from 8-10 September, 2023. The Kolhapuri Chappal and Paithani Saree from Maharashtra are set to feature at the Crafts Bazaar during the G20 Summit in New Delhi.
The Kolhapuri chappals, originating from Maharashtra, are meticulously handcrafted leather slippers. These locally tanned slippers acquire their authentic touch through the use of vegetable dyes. Kolhapuris , are a popular style of open-toed T-strap sandals. They showcase a captivating fusion of decorative elements and fine craftsmanship, appealing to those seeking both elegance and comfort.
The Paithani sari, known as the 'mahavastra of the state of Maharashtra', is known for its rich, vibrant colors woven in pure silk and gold zari. The birthplace of Paithani, is the medieval town of Paithan, located on the banks of the River Godavari. Its kath (border) and padar (pallu or end-piece), have distinctive motifs that make the textile stand out. The traditional motifs used in Paithanis include parrots, lotuses and peacocks. The six- or nine-yard sari has been
favored by Maharashtrian brides for centuries.
This Crafts Bazaar in Bharat Mandapam, Pragati Maidan, will showcase handicraft products from different parts of India with a special focus on One District One Product (ODOP), GI tagged items and products crafted by women & tribal artisans. Delegates, international media participating in the Summit will have an opportunity to visit this Crafts Bazaar and purchase locally sourced products.
The Bazaar would thus not only promote made in India products on a global stage, but also open up new economic and market opportunities for local artisans. To demonstrate the skills and exquisite workmanship of Indian artisans to international delegates, special live demonstrations by master craftsmen have also been planned as part of the Crafts Bazaar. 
The exhibition is being organized by the G20 Secretariat in coordination with the Ministry of Textiles and State/UT Governments. Around 30 States and UTs as well as Central agencies like Khadi Village & Industries Commission, TRIFED, Saras Ajeevika will be participating in the Crafts Bazaar. Find the brochure of the craft bazaar here.
About ODOP
The ODOP Initiative is aimed at manifesting the vision of the Prime Minister of India to foster balanced regional development across all districts of the country. The idea is to select, brand, and promote One Product from each District (One District – One Product) of the country for enabling holistic socioeconomic growth across all regions. The range of the chosen products varies across the length and breadth of the country while also touching upon multiple sectors with existing clusters and communities that have already created a niche identity for themselves. The ODOP Team at Invest India is working towards realizing this dream of New India for all its 761 districts.
Find a list of ODOP products from Maharashtra here.
In furtherance of the same a day long 'ODOP – Sampark' initiative was organized by Invest India, DPIIT, Ministry of Commerce & Industry, in collaboration with Industries Department, Government of Maharashtra on the 5th of September to showcase the remarkable diversity of Maharashtra's One District One Product (ODOP) offerings.
The event highlighted the pivotal role of ODOP in promoting economic growth and self-reliance, setting the stage for key industry insights. During the ODOP-PIB Sampark event, the Department of Industries, Maharashtra, hosted an exhibition with participation from all districts within Maharashtra to showcase a diverse range of ODOP (One District One Product) products, including Gems and Jewellery, Agriculture, Handicraft, and Handloom. As part of this exhibition, sellers were briefed on the Central Government's initiatives, including ONDC (One Nation One Digital Platform for Commerce) and GeM (Government e Marketplace), among others.
The exhibition provided a platform for entrepreneurs to connect with potential buyers and partners.
The event offered valuable insights through a series of sessions dedicated to enabling policies and programs for the growth of ODOP entrepreneurs. Noteworthy presentations were delivered by esteemed organizations such as the Indian Institute of Packaging, SIDBI, Postal Services, CGTMSE and the Exports Division.