Hinjawadi : Godrej 24 residents protest against builder for inaction on providing amenities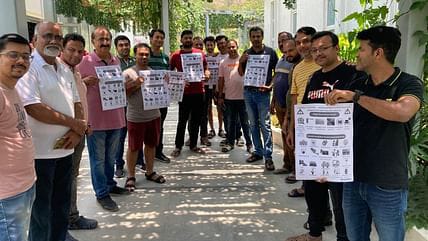 The residents of Godrej 24 housing society located near Hinjawadi Phase 1, Pune held a protest on May 6, Saturday against the builder for false promises and not providing the amenities as promised. The residents, mostly IT professionals held a protest outside the sales office urging the customers walking into the premise discouraging them from buying properties in the campus, as the builder has failed to provide any said amenities as promised.
Godrej 24 society has 1500 apartments in the society. The residents shared that the builder has failed to provide amenities as well as basic supply such as water, shops, school, gates, STP plants, illegal parking near fire station, etc and many others. The residents have been taking follow up with the builder for the last one year but did not yield any success. The builder is coming up with another site in Mhalunge on Mula river side Riverside 2 which is under construction. And since investors visit the site, the residents decided to hold protest outside the same premises discouraging the buyers.
The representatives from the builders side remained unavailable for any comment.