Indian Air Force's Surya Kiran aerobatic team to perform before World Cup Match 2023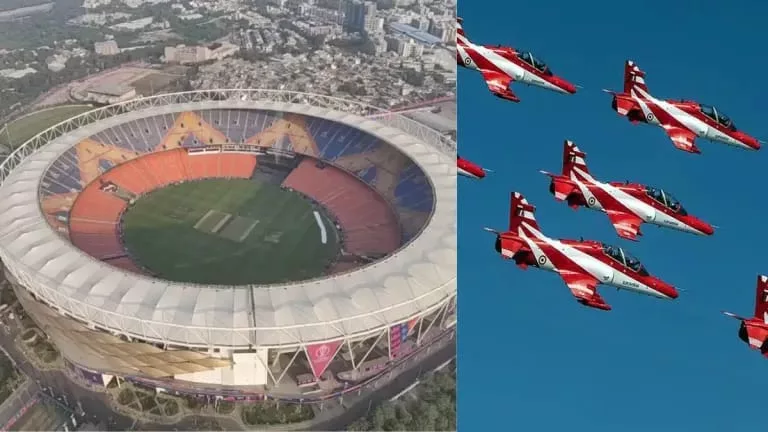 According to reports, the Surya Kiran aerobatic team of the Indian Air Force performed a rehearsal for their air show at the Narendra Modi Stadium in Ahmedabad. The roar of engines filled the stadium as the team took flight, creating an electrifying atmosphere.
This air show is scheduled to take place during the Cricket world cup final between India and Australia on November 19.
According to information provided, the Surya Kiran team will be conducting their rhythmic dances on Sunday as part of their final display preparations. The captivating visuals of this impressive rehearsal have gained significant attention on various social media platforms.
It has been revealed that before the ultimate match at the Narendra Modi Stadium in the Motera region, spectators will have the pleasure of witnessing a thrilling 10-minute air show performed by the Surya Kiran aerobatic team. Patel further mentioned that the arrangements for this aerial display were already in motion, with a rehearsal having taken place over the stadium on Friday.
As per the information provided, aerobatic team will mesmerize the audience in the stadium, which can accommodate 1.3 lakh people, prior to the highly anticipated match starting at 2 pm on November 19th. The Surya Kiran aerobatic team, consisting of nine aircraft, has an impressive track record of delivering breathtaking performances across the nation. Taking place on November 19th, their aerial acrobatics showcase is bound to inject an additional surge of excitement into the ultimate showdown between India and Australia.
The distinguishing features of their show include loop manoeuvres performed in triumph formation, barrel roll manoeuvres, and planes creating various shapes in the sky. On Sunday, the final match of the competition will witness India and Australia facing each other. Interestingly, these two teams kicked off their World Cup campaign by playing against each other in the tournament opener.
In the 2003 World Cup final, India suffered a devastating loss to Australia, led by Ricky Ponting. This defeat shattered the hopes of millions of Indian fans and extended their wait for the World Cup trophy until 2011. It was only when MS Dhoni captained Team India that they were able to finally bring an end to this drought.