Railway puts restrictions on carrying luggage; Check to know limit of free luggage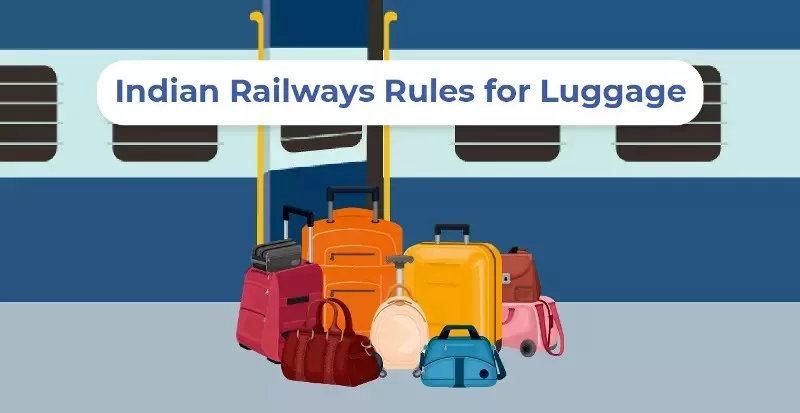 People always prefer railways for long distance travel. These journeys are not only safe but also comfortable. But you should keep some things in mind while travelling by train. This makes the journey much easier for you and the people travelling with you.
Indian Railways makes many rules for the convenience of passengers, in which there are many rules regarding travelling by train at night. Apart from this, what items can be carried in the train and which items are completely prohibited. Let us know some important rules related to railways which make your journey easier.
As per the regulations set by the railway authorities, the designated hours for sleeping are between 10 pm and 6 am. Within this timeframe, individuals occupying lower berths have the right to request middle berth passengers to relocate to their respective berths. Additionally, passengers are strictly prohibited from engaging in activities such as playing loud music or engaging in boisterous conversations during nighttime travel.
During the hours of 10 pm to 6 am, TTEs are not obligated to check tickets as per railway regulations. This is to ensure that passengers can have a comfortable journey without any disturbance to their sleep. However, if your journey commences after 10 pm, this rule does not apply and the ticket checker may check your ticket.
The permissible amount of luggage that passengers can carry on the train is subject to the Luggage Rules set by Indian Railways. The weight limit for luggage during the journey ranges from 40 to 70 kg. If a passenger exceeds this limit, they will be required to pay an additional fare. The weight restrictions for luggage vary depending on the type of railway coach. In sleeper class, passengers are allowed to carry up to 40 kg of luggage. For AC two-tier, the allowance is 50 kg of luggage. First Class AC passengers can carry up to 70 kg of luggage.
Carrying certain items on the train is strictly forbidden. This includes items such as explosives, gas cylinders, flammable chemicals, fireworks, corrosive substances, foul-smelling items, leather or wet skin, oil, grease, and packaged ghee. These items have the potential to cause harm to both the passengers and the train. It is important to note that carrying prohibited items during railway travel is considered a criminal offense. If you are found carrying any of these items during your journey, you may face legal consequences under Section 164 of the Railway Act.
In case you do not possess a reservation ticket but wish to travel by train, you can purchase a platform ticket (Platform Ticket Rules) and approach the ticket checker to obtain a ticket without any hassle. This rule (Indian Railways Rules) is applicable only to the railways. To avail this facility, you must obtain a platform ticket and approach the TTE, who will issue a ticket for your journey till your destination.