Major Accident : Truck Flips Near Katraj Tunnel on Pune Bengaluru Highway : Minor injuries reported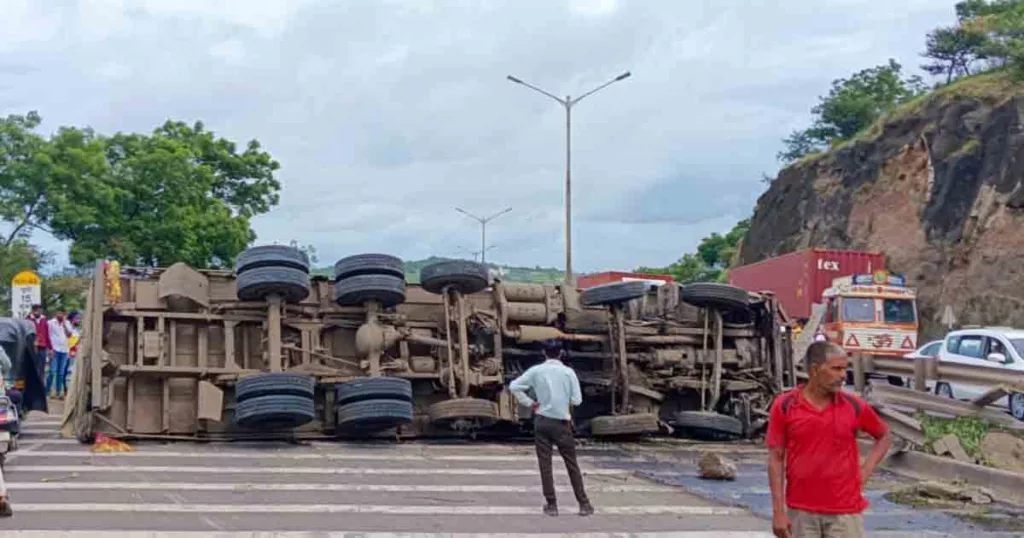 Katraj Tunnel in the past few years has become prone to severe accidents. In a tragic accident today morning, a truck coming towards Satara side from Pune city flipped near the Katraj tunnel.
The accident was severe as the truck flipped and occupied the entire lane of the road leading to a long queue of vehicles.
A massive truck commuting in front of Indian Oil Petrol Pump near New Katraj tunnel road flipped & fell on it's side on 16th September. The impact caused another truck to flip & fall as well.
Speaking to Pune Pulse, Prashant Kanase, Assistant Police Inspector, Bharati Vidyapeeth Traffic Division, said "At 10:15 am, a truck was commuting towards Satara direction from Dari Bridge carrying huge amount of dry fruits. From prima facie information, due to breaks of the truck not functioning, the truck used handbrake to stop it. After applying the handbrakes, due to the momentum, the truck driver lost control, causing the truck to flip & fall on it's side. The impact of the flip was so huge that it hit another truck, causing the other truck to fall too."
As per further information from Kanase, the traffic flow was hampered completely for some time due to this. However, due to the swift action of traffic police, the traffic flow became smooth in sometime as the traffic was diverted towards Shindewadi direction. The truck was removed from the road by using crane.
Both truck drivers have been slightly injured & have been admitted to a nearby hospital.
Just a day ago an accident took place on the Pune Bengaluru Highway Near Navale chowk where an eicher truck collided into a stationary bus.