Mumbai to Navi Mumbai in just 20 mins ; know everything about Mumbai Trans Harbour Link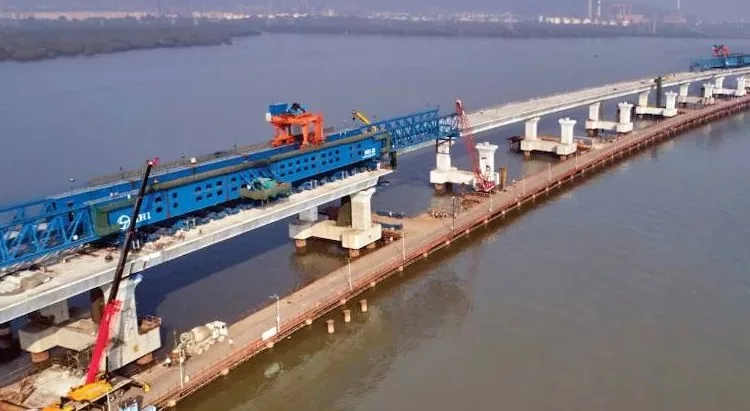 By: Pune Pulse
November 17, 2023
Pune: One of the financial capital's most anticipated projects, the Mumbai Trans Harbour Link (MTHL), is probably going to open to the public on December 25. Currently taking hours, the bridge will connect Mumbai and Navi Mumbai in just 20 minutes.
As per further information from the X handle of BJP Leader Varun Puri "Mumbai's iconic project 'MTHL', connects Mumbai with Navi Mumbai set to open for the public on December 25. There was a time when there was talk of building a railway overbridge and the bridge continued to be built for years. These are the times when one does not know when the announcement was made and when the work started, the news comes directly about the inauguration."
However, there has been no formal confirmation from the Mumbai Metropolitan Region Development Authority (MMRDA) yet.
Cost & Planning
The project is projected to cost Rs 17,843 crore in total. Contracts for the project were given to MMRDA in November 2017. April 2018 saw the start of construction, which was supposed to be finished in 4.5 years. but the COVID-19 pandemic caused a delay, and it is currently projected to be finished by December 2023. After the bridge opens, the MMRDA predicts that 70,000 cars will use it every day.
Connectivity
The 22-kilometer, six-lane MTHL bridge will be the 'longest sea bridge in India.' It is being constructed at a cost of more than Rs 17,000 crore and is anticipated to cut the travel time between Sewri (Central Mumbai) and Chirle (Navi Mumbai) to 15-20 minutes.
Notably, the bridge spans 16.5 km over water and the remaining portion is on land. Two consortiums, Larsen and Toubro and Tata Projects, have been awarded the construction project.
Mumbai-Pune Distance
The reduction of travel time between Mumbai and Pune is a significant long-term benefit. The estimated reduction in travel time is sixty-nine minutes from Lonavala, Khandala, and Mumbai.
New Toll System
An Open Road Tolling (ORT) system will be used to collect the toll. According to the MMRDA, tolls will be collected through 2045. 70,000 cars are anticipated to use the bridge each day.
Shreyas Vange