NCP MLA Prakash Solanke's house set ablaze by Maratha protestors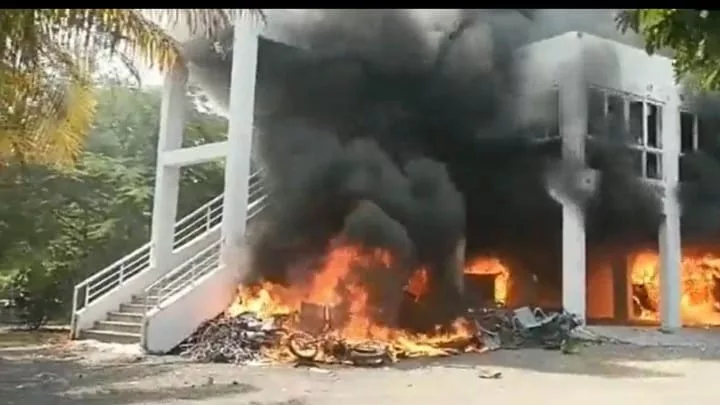 By: Pune Pulse
October 30, 2023
Pune: The ongoing Maratha reservation protests in Maharashtra have caused widespread unrest. The Beed district has been particularly affected by the agitation for the Maratha reservation, with protesters setting fire to the home of Prakash Solanke, Nationalist Congress Party (NCP) MLA. The protestors first vandalized the residence before setting it ablaze.
The entire house was engulfed by the fire upon its discovery, resulting in the emergence of intense flames and dark smoke. Solanke has provided a statement following the house burning incident, revealing that he and his family were present inside when the protestors set the house ablaze. His family and all household staff are safe, having incurred no injuries from the incident. However, they have experienced significant distress as a result of the fire.
The protestors advocating for reservation are currently displaying aggressive behaviour. Simultaneously, on Sunday, a group of approximately nine women ascended a 70-foot tall water tank in Latur City, Maharashtra, to demand Maratha reservation. This information was provided by officials. As per the officials, these women climbed the water tank situated in the Gandhi Chowk area at approximately three o'clock in the afternoon. Despite the pleas made by the police and district administration officials, they declined to descend.