Pimple Saudagar Residents Begin Nirmalya collection initiative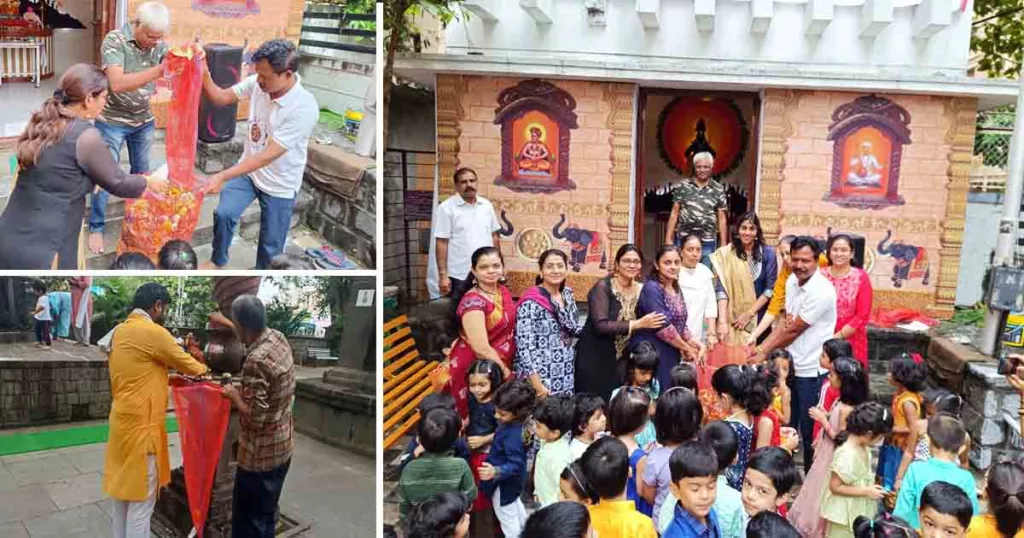 By: Pune Pulse
September 27, 2023
Pune: People in Pimple Saudagar have started a Nirmalya Collection initiative to keep Pimple Saudagar waste-free as well as to provide employment opportunities to handicapped people.
Speaking to Pune Pulse, Sandesh Kate, BJP Party Worker, Pimple Saudagar, said "This Nirmalya Collection initiative has been started since the beginning of Ganesh Festival i.e. 9 to 10 days back. The entire purpose of this initiative is to keep the entire Pimple Saudagar area clean & provide the collected Nirmalya as raw materials to handicapped people in various Ashrams for them to use the collected Nirmalya & make various incense sticks, fragrance related items etc."
As per further information from Kate, till now, around 30 to 40 kg of Nirmalya has been collected in 4 to 5 huge gunny bags. Around 40 to 50 residential societies have shown their participation in this initiative by donating Nirmalya.
Sandesh Kate further adds that, from the Pimple Saudagar Nagar Seva Vibhag, the city head Vikas Saxena and through the service head Rahul Chitri and Sahaseva head Sandesh Kate Patil, through chief teachers and branch service heads of all the branch heads in the city, Nagar Seva Vibhag has completed this activity in Pimple Saudagar Nagar through societies, temples, colonies and people working towards the betterment of society. By collecting dried flowers through environment lovers, it is donated to Nava Kshitij Sanstha and the mentally retarded children in that organization make flowers and garlands, natural color incense sticks and fertilizer. Similar activities are implemented by Pimple Saudagar Sangh Parivar. This is just one of the activities, others being about a large grain, family education, study for poor children, etc.
Sandesh Kate further mentions that generally, what happens is that, after Ganpati festival, people tend to throw the Nirmalya in garbage. Hence, instead of wasting the Nirmalya, it can be collected & donated to trusts & Ashrams where handicapped children or persons can learn some motor skills etc by making many fragrance related items & selling them outside, creating money-earning opportunities for them.
Kate further mentions that, even though Ganesh festival will get over in some days, this activity is going to continue for a long time as a lot of festivals are coming.