PMPML collects over Rs 1 crore fine from ticketless passengers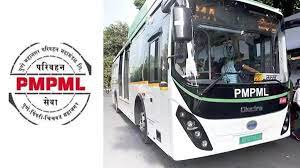 November 1, 2023
Pune: Pune Mahanagar Parivahan Mahamandal Ltd (PMPML) has collected more than Rs 1 crores fine from ticketless passengers from January 2023 to September 2023.
As per further information shared by Satish Gate, PRO, PMPML, Rs 1, 10,46,000 from PMPML passengers between January 2023 and September 2023 & as many as 22 thousand passengers had traveled without tickets.
According to further information provided, an average of 80 to 85 passengers travel without a ticket every day. According to these statistics, an average fine of Rs 41,000 is collected from PMPML every day.
Even if the ticket is lost, the fine is 500 rupees. Passengers traveling by PMPML are fined Rs 500 if they travel without a ticket. Also, even if they have purchased tickets and lost them, a fine of Rs 500 has to be paid. Therefore, traveling without a ticket is becoming very expensive for Pune residents.
On October 23, the PMPML had introduced a cashless facility of bus passes at PMPML pass centers – https://www.mypunepulse.com/pmpml-launches-cashless-facility-for-bus-passes-at-pass-centers/
Passengers will be able to pay for passes through QR codes at all 40 pass centers of the PMPML.
Hence, PMPML appeals to everyone to make use of hassle-free ticket issuance & payments rather than travelling without a ticket.