Signalling system operational near Yerawada post office to ease congestion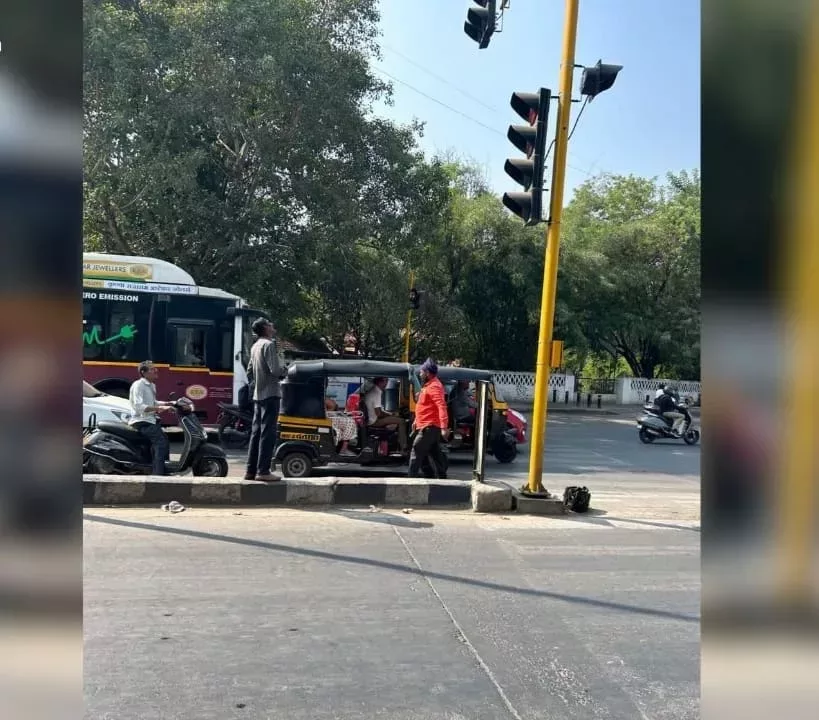 By: Pune Pulse
November 1, 2023
Pune: The airport road, which holds significance for the public as well as VIP individuals, can now be traversed without any disruptions caused by traffic. On Wednesday, the signaling system was activated at Samrat Ashok Chowk near the Yerawada post office, situated along the road.
However, it is important to note that this development does not address the issue of unruly traffic behavior. Additionally, motorists will no longer have to endure frequent traffic congestion.
Siddharth Dhende, the former Deputy Mayor of Pune Municipal Corporation, diligently pursued this matter and has finally achieved success. Ward No. 2 encompasses the Airport Road, which is frequently utilized by esteemed officials and ministers.
The traffic department consistently takes precautionary measures to ensure that these individuals are not inconvenienced by traffic jams. As a preventive measure, vehicles and obstacles are promptly cleared from this road during the visits of important dignitaries.
Recently, Pune hosted several meetings for the G-20 conference, during which a convoy of vehicles carrying national representatives traversed this road. Meanwhile, the absence of a signal system at the Samrat Ashok Chowk intersection in Yerawada Post led to frequent traffic congestion, primarily due to the presence of a large roundabout.
From this intersection, there is a significant flow of vehicles heading towards Vishrantwadi, Shivajinagar, Shastri Nagar, and the Airport. Consequently, it is imperative to regulate the traffic in order to maintain order and safety. The absence of traffic signals has resulted in numerous potential accidents. Recognizing this issue, the concerned department of the Pune Municipal Corporation took the necessary steps to install the required signals.
Dhende has diligently followed up on this matter, and their efforts have proven successful. Under the guidance of civic officials, the staff has taken prompt action to install traffic signals at Samrat Ashok Chowk in Yerawada Post. Shrinivas Kandul, the chief of Pune Municipal Corporation's electricity department, and Borse, the chief of the smart city's electricity division, have both issued instructions in this regard. Dhende has diligently carried out these instructions. As a result, motorists will no longer have to endure the inconvenience caused by the absence of signals, and the flow of traffic will be significantly improved.
Some G20 council meetings took place in Pune. During this period, the national representative travelled directly from the airport to the event venue using this route. Unfortunately, there was a traffic jam at that time. Considering this situation, a letter was written to the Commissioner, requesting the installation of traffic signals at Samrat Ashok Chowk to alleviate the congestion. Additionally, a request was made to install a signal at Badami Chowk to prevent any further disruptions. Officials have assured they will take action in this case as well.