First Trial Shipment of Bananas from India sent to Europe by Sea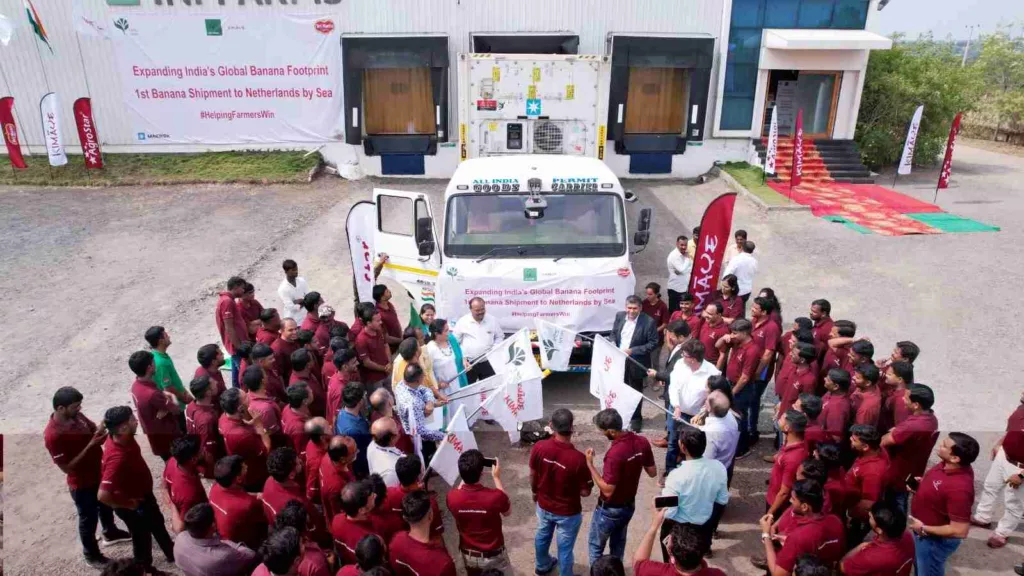 The Agricultural and Processed Food Products Export Development Authority (APEDA) organized an event today to mark the flag off of a trial shipment of bananas form India to Europe for the first time by sea. This groundbreaking initiative is aimed at enhancing the market share of Indian bananas in the European market.
The event was graced by Shri Abhishek Dev, IAS, Chairman, APEDA. It showcased the export of a substantial quantity of bananas from Maharashtra to Europe, a momentous step forward for the Indian agricultural export sector. A total of 19.50 metric tons of bananas (1080 X 18.14 per box net weight) were exported by the APEDA registered exporter i.e. M/s INI Farms Pvt. Ltd., Maharashtra. The flag off of bananas took place at the packhouse of M/s INI Farms Pvt. Ltd, at Vasunde, Baramati – Kurkumbh Road, Daund, Pune, Maharashtra and it will be carried out via sea transportation through Jawaharlal Nehru Port Trust (JNPT) in Mumbai. The entire support to commence export activities systematically was given by APEDA to M/s INI Farms Pvt. Ltd., Maharashtra, marking the initiation of a new era in Indian banana export.
Also present on the occasion were, Ms. Vinita Sudhanshu, General Manager, Fresh Fruits and Vegetables Division (FFV Division), APEDA Head Office Delhi, Shri. Nagpal Lohkare, Deputy General Manager and Regional Head, RO, Mumbai, other senior officials of the State Government, banana exporters, progressive banana farmers and representative of INI Farms.
APEDA's commitment to promote Indian agricultural products in international markets is underscored by this milestone event, with the trial shipment of bananas to Europe being a significant step in this endeavor. APEDA is actively working with stakeholders to further these goals and strengthen India's position in the European market.