Rann Utsav 2023 begins : A celebration of culture, art, and nature. Check details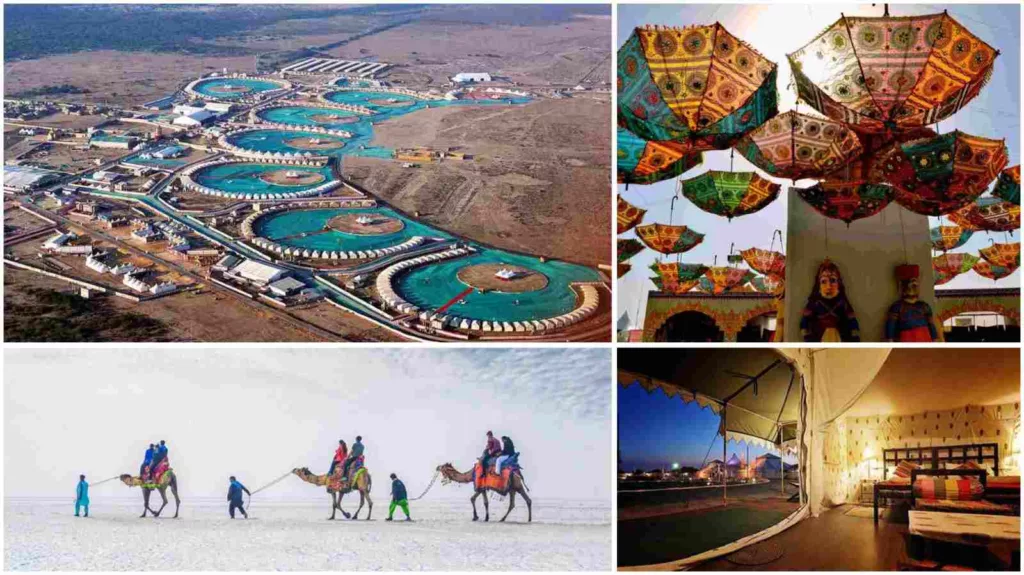 By: Pune Pulse
November 15, 2023
Pune: The highly anticipated 'Rann Utsav 2023' has begun in the scenic region of Kutch, Gujarat and is garnering attention as its bookings are already sold out through December.
The festival this year promises to deliver a special concoction of musical exhilaration, cultural vibrancy, and a strong dedication to environmental preservation.
Highlight of the Festival :
Rann Utsav 2023's 'Tent City ', an architectural wonder that embodies the spirit of the festival, is its main attraction. The yearly construction of this temporary setup is intended to be environmentally friendly, in keeping with the festival's environmental preservation theme. It's more than just a place to stay; it's an immersive experience that immerses guests in Kutch's natural surroundings and rich culture.
 Some attractions of Rann Utsav 2023 :
• Experience a cultural extravaganza with concerts, cultural shows, and traditional dance performances.
• Take part in things like paramotoring, camel safaris and ATV rides.
• Look at traditional ornaments, Bandhani sarees, and genuine handicrafts.
• Rejuvenate yourself with spa treatments, yoga and meditation.
• Savor regional fare in the food courts during the festival.
• Throw distinctive events to commemorate holidays like Republic Day, Holi, and New Year's.
Kutch, also known as Rann Utsav, is renowned for its ethnic flavour and festive zest. It is a singular expression of the region's diverse cultural ethos. This festival offers a unique chance to see the inventiveness of the artists and craftspeople, the diverse range of folk music and performances, the diverse representation of cultures and communities, and the wide range of ecological diversity. Kutch and the people are defined and described by all of this and much more.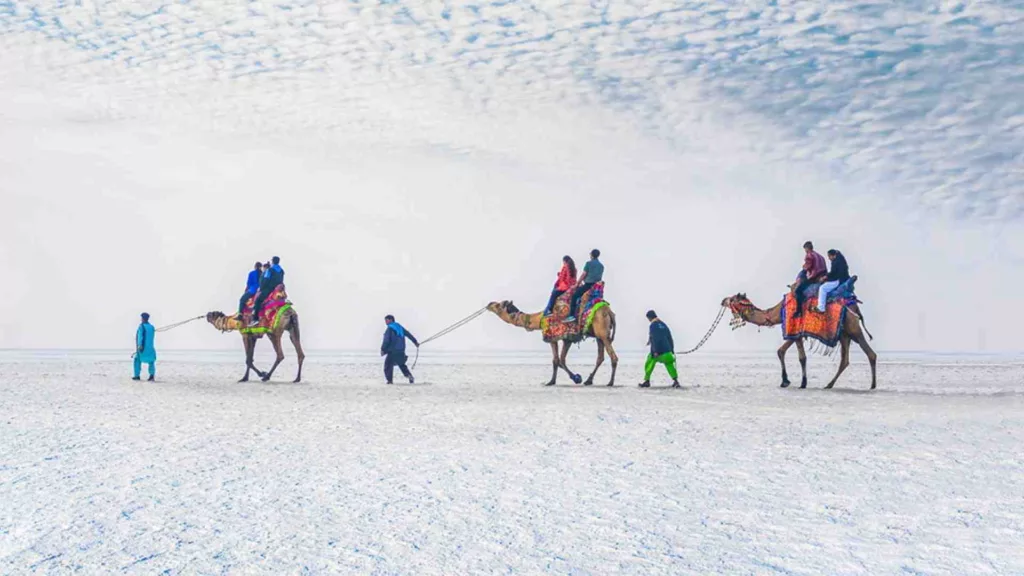 Where Does it Happen?
Dhordo, located in the Indian state of Gujarat, has been named by the United Nations World Tourism Organization (UNWTO) as one of the 54 Best Tourism Villages for 2023. Dhordo village, which is in Kutch, is well known for its warm welcome and rich cultural heritage. It draws tourists not only for the well-known Rann Utsav but also for its elaborate mud craft and Mutwa embroidery. This award honours communities that support rural areas while protecting their natural surroundings, cultural diversity, customs around the kitchen, and local values. Additionally, Dhordo served as the host of the G20's first working group meeting on tourism during India's presidency.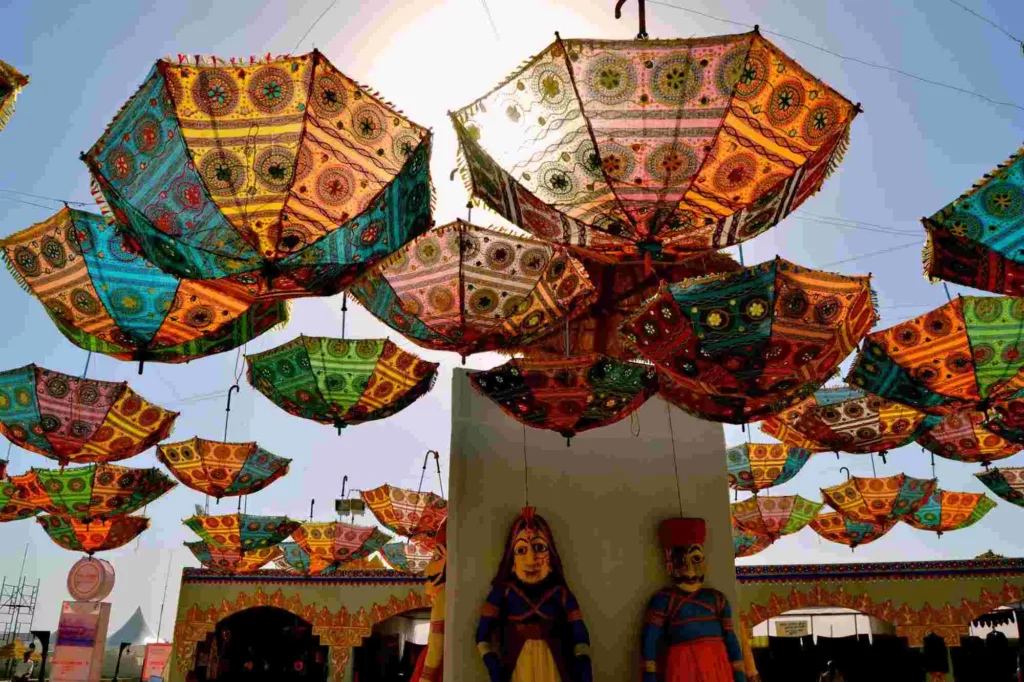 History & Idea :
The festival, which was conceived by Prime Minister Narendra Modi, intends to promote Kutch as a travel destination worldwide. It honours Gujarat's rich cultural heritage in addition to the White Desert's breathtaking natural beauty.
From a three-day celebration to a 100-day event, Rann Utsav has grown in popularity, drawing travellers from all over the world to experience the wonders of Kutch.
Dates and Bookings :
The dates of the enchanted Rann Utsav 2023 are November 10, 2023, to February 25, 2024. Through approved tour operators, guests can reserve their accommodations and experiences to take part in this exciting celebration.
For reservations regarding the Rann Utsav 2023 tent and detailed information about the packages, please use the following contact details:
Send an email to info@rannutsav.com
• Telephone: 1800 233 9008 or +91 9978603454
Moreover, travellers can email info@gujarattourism.com, call 079-23977219 or 079-23977229, or make other special arrangements with inquiries about different tour packages, such as the full moon tour package. Reserve your spot for this experience now to guarantee your spot in this celebration of music, culture, and the outdoors.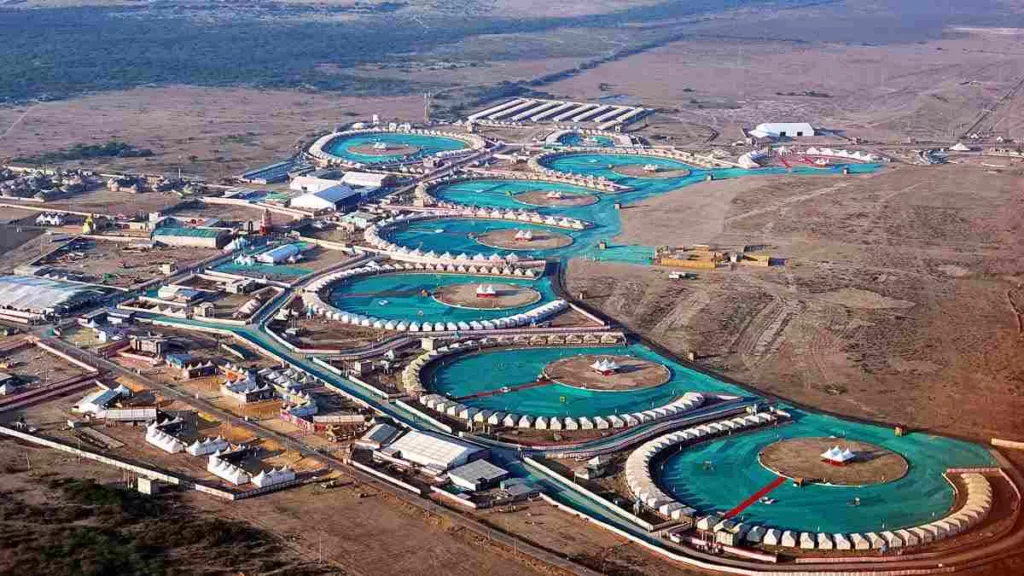 Transportation, Accommodation & More :
Access to all required amenities, such as lodging, transportation, and guided tours, is guaranteed by the Tourism Corporation of Gujarat Ltd. Special arrangements and tour packages are available for those who would like to spend the full moon night at White Rann.
Rann Utsav 2023 is a celebration of life, culture, and the wonders of nature rather than just a festival. Those who are interested can get in contact with the official sources for reservations and additional details regarding the activities and packages for Rann Utsav 2023.
Shreyas Vange