Sixth Naturopathy day celebrated at NIN Pune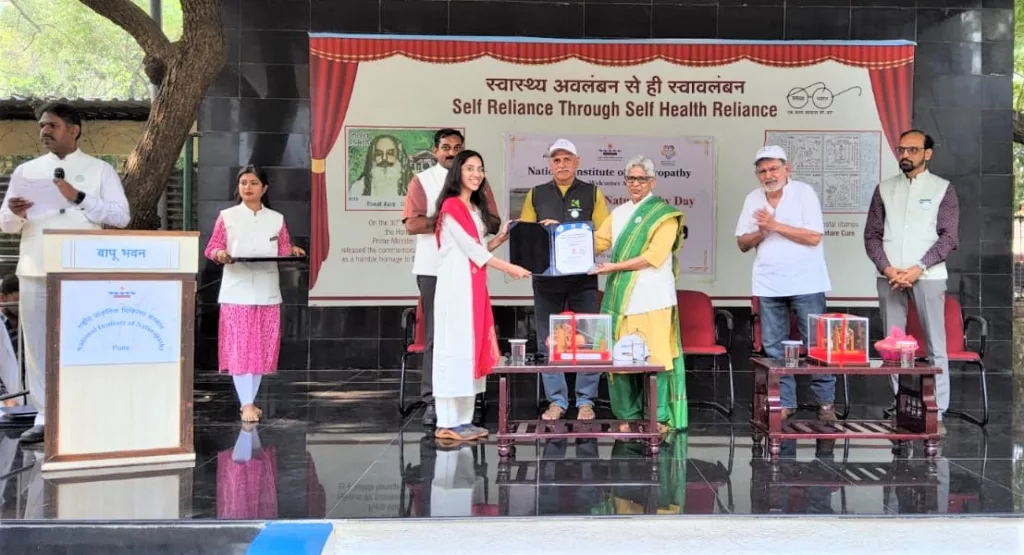 National Institute of Naturopathy (NIN), Pune, marked 06th Naturopathy Day with an exuberant celebration, reaffirming its commitment to promoting holistic health practices and natural healing methodologies.
The event, held on 18th Nov, 2023 was a resounding success, bringing together experts, practitioners, and enthusiasts in the field of Naturopathy.
Welcome address was given by Dr. Yuvaraj Paul in which he welcome and thanked  all the Guests and participants of the event, thereafter Presidential address was given by Prof. Dr. K. Satya Lakshmi, Director, NIN, in which she addressed the gathering that Naturopathy holds significant importance in today's time due to its holistic approach to health and well-being. She said that this year's theme of Naturopathy is very relevant for overall health because the human body should be seen completely and there should be an attitude to see it completely. 
She has given in detail about Preventive Healthcare, Holistic Approach, Empowerment and Self-Care, Natural and Non-Invasive Therapies, Environmental Sustainability, etc.
The Director also said that knowing the importance of this day and for their excellent contribution in the field of Naturopathy few eminent names have been selected viz. Dr. S.N. Pandey, Pro Chancellor, The Global Open University, Nagaland, Dr. Shankaran Manipuzha, President and Chief Consultant, Natural Hygiene Association, Vadodara Gujarat, Dr. R.M. Nair, Ex- Director, Founder, Bapu Nature Cure Hospital and Yogashram, New Delhi and Dr. Y. Rudrappa, Medical Director, Sanathana Yoga and Nature Hospital, Bangalore, Karnataka who will be honored and felicitate by the Ministry of Ayush, Government of India at Haridwar today by giving awards.
Baharam Shaah Mardaan from Dr. Dinshah K. Mehta Spiritual Centre, Dahanu, Mumbai, addressed the gathering on the subject of Dr. Dinshah Mehta and his contributions to Naturopathy. He explained in details that Mahatma Gandhi was a staunch follower of Naturopathy and Dr. Dinshah Mehta was his Physician. He said How Dr. Dinshah Mehta has contributed a lot in making Naturopathy established in India with his spiritual inner divine motivation and thoughts. Mr. Anand Kelkar spoke about attaining overall health through exercises and exercise as food.
The Institute organized Free Consultations and Naturopathy treatments to the public to emphasize the importance of preventive healthcare and the benefits of naturopathic practices including free distribution of Naturopathy literatures.
Cultural programme was performed by TATC students and Interns followed by Certificate award ceremony for the students of Foundation course in Yoga Science for Wellness.
About the National Institute of Naturopathy:
The National Institute of Naturopathy, based in Pune, is a premier institution dedicated to the promotion, research, and education of naturopathy and allied sciences. NIN plays a pivotal role in advancing the understanding and practice of natural healing methods, emphasizing the importance of a holistic approach to health and wellness. National Institute of Naturopathy (NIN), Pune is an autonomous body under Ministry of Ayush, Government of India, located at a historical place called "Bapu Bhavan".
"Bapu Bhavan" is name after Mahatma Gandhi, Father of the Nation, who made this Institute his home by staying here for 156 days, whenever he visited Pune since 1944. There are various types of facilities available like Naturopathy Treatments, Medi-Gym, Health Shop, Yoga Classes, etc., related to Naturopathy.