Sugarcane agitation intensifies in Maharashtra, vehicles set on fire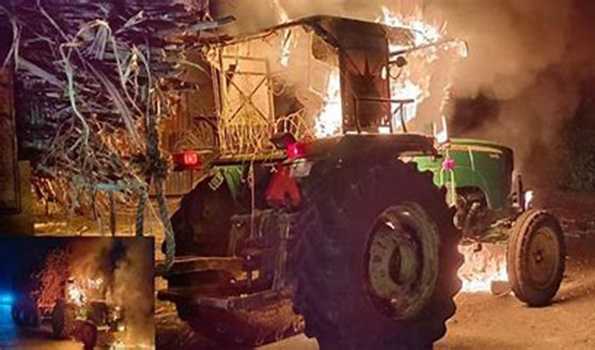 Kolhapur, Nov 13 : Workers of the Swabhimani Shetkari Sanghatana (SSS), an organisation of farmers, on Monday set fire to and deflated tyres of sugarcane carrying vehicles across Maharashtra's Kolhapur district demanding Rs 3500 per tonne for this year's sugarcane and Rs 400 as second instalment for last year's produce.

The agitators set afire a sugarcane loaded tractor of Warna cooperative sugar factory, at Chavare phara on Vathar-Pargaon road to protest against the sugar factory owners and the state government "neglecting" their demands.

At Shirol, agitators barged into sugarcane fields and stopped sugarcane cutting works. A scuffle also took place between agitators and sugar factory owners, and their supporters. as agitators tried to stop sugarcane loaded vehicles.

Meanwhile , SSS workers took out a morcha to Hatkanangale police station alleging "registration of false cases" against agitators and farmers. They also demanded registration of cases against sugar factory owners.

Meanwhile SSS president and former MP Raju Shetty has warned the state government if the farmers lose their patience, it will made things difficult for the government and sugar factory owners. "If the demands are not fulfilled early, we will intensify our ongoing agitation," said Shetty.