Undri accident : Speeding water tanker hits biker at Undri chowk in Pune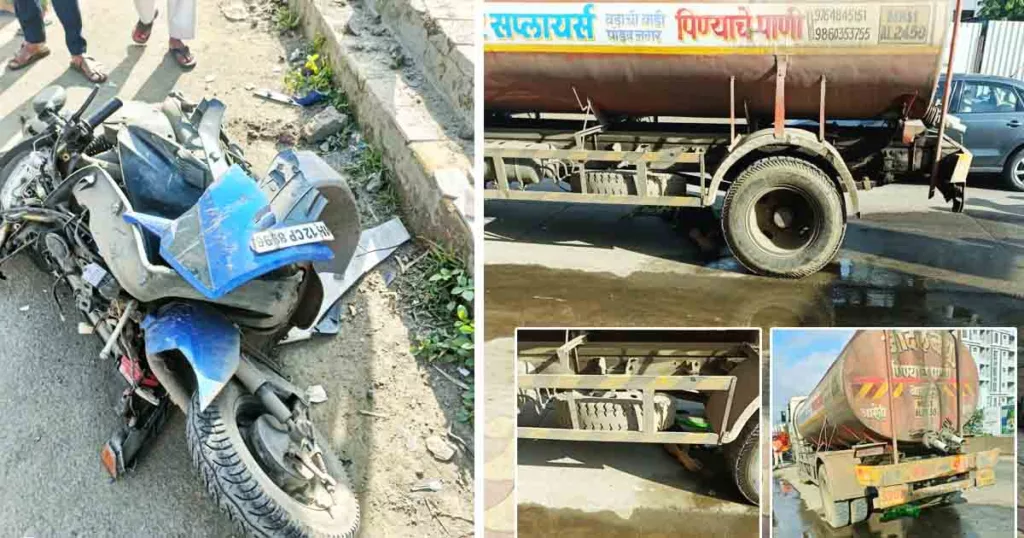 In an unfortunate accident that took place today morning, a speeding water tanker from Handewadi to Undri chowk hit a biker. The details of the accident are yet to be known and that the Kondhwa Police station is taking further investigation in the incident .
The accident took place at 150 meters from Undri chowk, Handewadi road, Kanade nagar, near Hari om Furniture shop, Undri chowk. The accident led to death of one while one more person is injured. The person who sustained injuries in the accident is identified as Edward Lalawmpuia, while who died in the accident is identified as N Vanalpeka, a resident of Kondhwa. The accident took place at 7 AM today morning when two people on bike were travelling from Handewadi to Undri when the water tanker vehicle number MH 11 AL 2450 hit the bikers, wherein one of them died on the spot. The another person on the bike has been admitted to Sassoon hospital. As per the information, the bikers were not wearing helmet.
Undri, Pisoli, Handewadi, Wadachi Wadi, Mohammawadi are some of the villages, even merged in Pune Municipal Corporation but are totally dependent on private water tankers. Hence, the movement of water tankers, and growing construction sites in the area there is huge influx of concrete mixers too in the area which ply at great speed. Often residents of the area have raised this issue and are seeking some solution to the problem.
Further details of the driver of the tanker is not known yet.