Air pollution news:Air Grips Delhi for Third Consecutive Day with an AQI of 413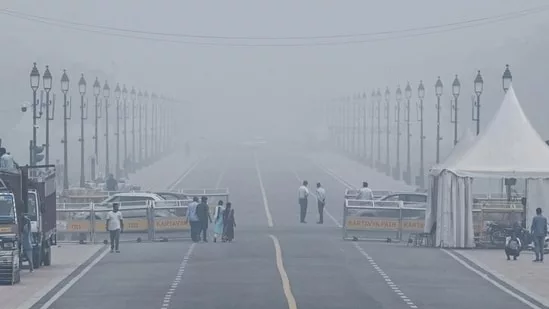 The air quality in Delhi persisted at a severe level for the third consecutive day on Saturday, with an AQI of 413 recorded at 7 a.m. During a late-night inspection at Anand Vihar bus terminus on Friday, Gopal Rai, the Delhi environment minister, highlighted that the presence of BS3 petrol and BS4 diesel vehicles from Uttar Pradesh has been exacerbating the decline in the air quality index. This was evident as Anand Vihar's AQI reached a hazardous level of 999 during the night.
The minister stated that the Delhi government has made significant efforts to address the issue of air pollution. It was discovered that Anand Vihar has the highest Air Quality Index (AQI). Upon visiting the area, it was observed that all buses arriving from Uttar Pradesh are of BS3 and BS4 standards. The minister made an appeal to Yogiji, urging him to refrain from sending these vehicles to Delhi. It is worth noting that electric buses and CNG vehicles are currently in operation in Delhi. Furthermore, the minister expressed concern over the negligence of the bus depot manager and traffic staff, who have allowed these prohibited vehicles to enter Delhi.
The air quality in Delhi remained severe on Friday, with criticism directed towards the AAP government by BJP leaders for their inability to control pollution. The 24-hour average air quality index reached 468, necessitating emergency measures such as a ban on polluting trucks, commercial four-wheelers, and construction in Delhi-NCR. The accumulation of pollutants near the ground due to low wind speed has made the air unbreathable. Despite this, no additional restrictions have been implemented, as the Centre's panel believes that the current measures will take time to have an impact on air quality.