One dead, one severely injured while watching Dahi Handi in Buldhana – Watch Video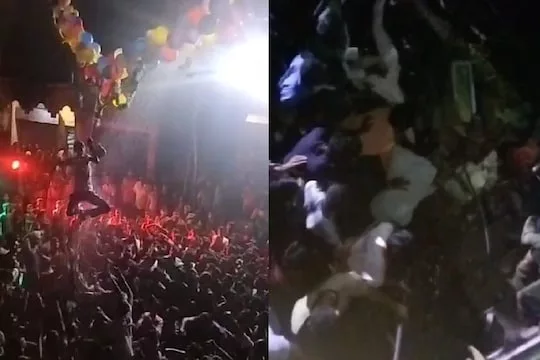 Dahi Handi festival was celebrated with great enthusiasm across the state on Thursday.
But the festival saw many accidents while the Govindas were trying to break the Dahi Handis at many places. Over 107 Govindas were injured yesterday evening while the celebration was ongoing in Mumbai and Thane.
Similar incident took place in Buldhana's Deulgaon Raja when a balcony wall of a building collapsed while the Govindas were breaking the Dahi Handi. One girl died while another was severely injured in the incident.
The incident took place at Mansingpura in Deulgaon Raja of Buldhana district at 8 pm. One side of the rope of dahihandi was tied to a gallery in the wall. The wall collapsed when some Govindas hung from that rope to break the handis. Two girls fell down in this incident, namely Nida Rashid Khan Pathan, who died in the unfortunate incident, while Alfia Sheikh Hafeez, a 9-year-old girl, has been seriously injured.