Pimpri Chinchwad Housing Societies Federation Issues Legal Notice To PCMC Commissioner Over Proposed Garbage Disposal Site At Punawale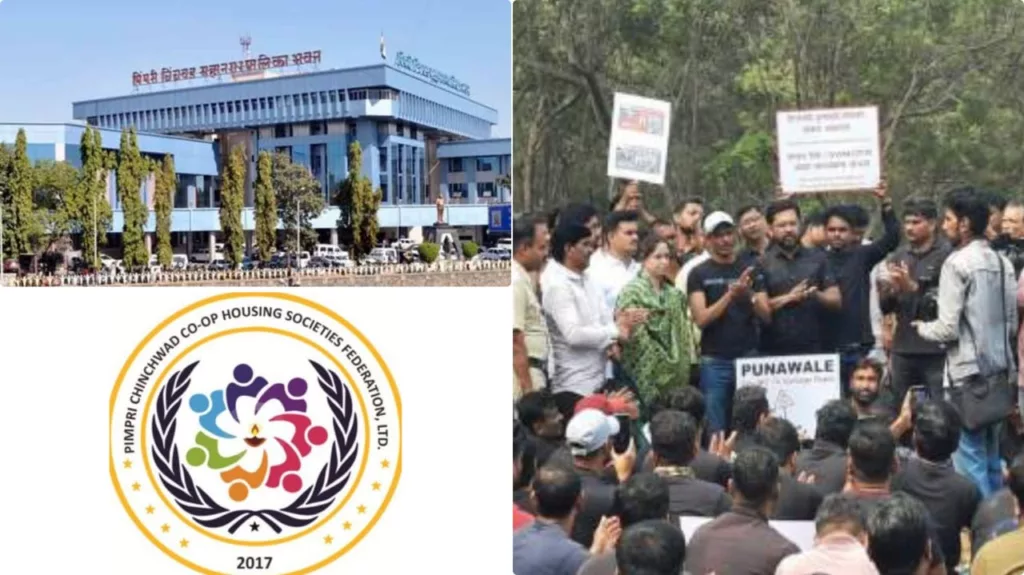 The general population of Punawale and neighboring regions have been voicing out their concern against the proposed dumping ground (Solid Waste Management Project) at a site in Punawale at Kate Wasti Forest.
NEAR TO HOUSING CLUSTER : 
The project was proposed in 2008, when there was very less population or construction in this region. Later the government approved the project via a GR in 2018 but on the other hand by now there are several hundred complete and under construction housing societies and apartment complexes in the close vicinity of the proposed site.
The layout and construction permission of these housing complexes have been granted by PCMC themselves. Over a lakh of people reside around 100-meter vicinity of the proposed dumping site. Due to such a scenario, it is foolish to develop a waste dumping site where population is expected to increase manifold in near future.
OUTDATED PROJECT : 
The said proposed site was planned in 2008 and was never implemented till date. By 2023, all the ground realities have changed. Even the existing analysis, surveys, environmental impact assessment, etc are outdated. Adv Satya Muley speaking on behalf of the Pimpri-Chinchwad Housing Societies Federation and the residents of the region said that it is astonishing to see how the PCMC intends to forcefully push the project based on outdated analysis, reports and approvals. PCMC must take into account the current ground realities and increase in population around the proposed site and initiate a fresh site selection process based on legal provisions.
FEAR OF DETERIORATION IN LIVING STANDARDS 
The residents of the region have a fundamental right to clean and fresh air, surroundings, environment, and water. The proposed SWMP is bound to affect the quality of the air and pollute the groundwater of the region. The proposed SWMP is bound to attract filth, pollute the air with fumes and smell, and attract insects, pests and various other hazardous elements which shall lead to deterioration of living conditions of the residents of the region.
The residents of the region have a fundamental right guaranteed under Article 21 of the Constitution of India regarding enjoyment of pollution-free water, air, environment etc, which is included in 'right to live'. The Hon'ble Supreme Court has held in Subhas Kumar v. State of Bihar (1991) SCC 598 "Right to live is a fundamental right under Art 21 of the Constitution and it includes the right of enjoyment of pollution free water, environment and air for full enjoyment of life."
ENVIRONMENTAL IMPACT 
The proposed location of the said SWMP is adjacent to a natural water body known as Abha Lake. If the said SWMP is developed at the location under question, then the natural waterbody is bound to get polluted. The proposed site is forest land. Furthermore, there are several thousand trees, flora and fauna on the proposed location which are also habitat to various species of birds and other animal species whose existence is bound to get permanently destroyed. Therefore, the proposed location on this count too is completely against the ground water conservation initiatives, and other environment protection laws.
WHAT THE LOCAL RESIDENTS SAY : 
"The Proposed SWM plant/ Garbage depot is sure to cause Asthma and Breathing illnesses to the people living in and around Punawale. Apart from this the Garbage litter done by stray dogs and birds will cause a concern. Felling of lakhs of trees in Punawale forest area is a total nonsensical idea and may lead to Ecological disbalance as these trees are lungs supplying oxygen to whole of Jambhe, Marunji, Punawale, Tathawade,Wakad and Hinjewadi area. This kind of inhumane torture on Nature is to be condemned and PCMC shall cancel this Proposal. The proposal was in 2008 when the population was in Just a few thousands in Punawale but has grown to 1 Lakh + in recent times . Recent Media reports suggest that Air Pollution is very high in PCMC Areas causing Respiratory issues in Residents. Also, if this SWM plant is functional, it shall impact all Water bodies present in the Area. The said Kate wasti forest shall be kept untouched as there is very less Tree plantations left in Punawale area," informed Rohan Chodankar, Anika Picadilly society in Punawale.
"Having settled within 500 mtrs of the existing Kate Wasti forest, I feel it's a natural hazard if the proposed SWM plant goes as per plans. The forest area maintains the natural equilibrium across the area and losing it will elevate the existing environment related issues within PCMC – I will lose the source of fresh Oxygen, the temperatures will immediately rise by 5-6 degrees and other health hazards will start developing over time. India is a democratic country and I as a responsible citizen of this great country can't stand the barbaric and illogic stand by the authorities to implement this at any cost. Hence I oppose this and want the proposed SWM plan to shift somewhere else away from the existing/upcoming residential area. The forest land should stay with the Forest dept and a directive should be issued to Forest Dept to not engage in any such agreement with any authority in future. Hoping for the best," Biswajit Chatterjee, GK Arise society resident said.
"Geographically the location of the proposed SWM is on the West hill side and most of the time air flows from West to East so many areas will have a serious impact like Tathawade ,Wakad,Hinjewadi,Marunji and Punawale. Also why is the buffer zone reduced from 500 meters to 100 meters? PCMC should answer this. Oxygen from thousands of trees will be contaminated with smell and polluted air from SWM. Please cancel this reservation asap as it is impacting the health of more than 5lakh people and impacting natural resources as well very severely." said Vitthal Baral, a resident of VJ Yashone Infinitte in Punawale.
"PCMC imposed land reservation for a dumping ground in Punawale in 2008 that too includes forest land. PCMC have done anything from the last 15 years on this reservation on top of that they have provided approval to residential as well as IT parks nearby this area in the last 15 years. Now nearby This area many societies are built by well known builders with around 1 Lakh residential flats. We are seriously clueless how come corporations do so much negligence in such big decisions and playing with common people's health that too because of their own mistakes from the last 15 years" said Dattatraya Deshmukh, Chairman Pimpri Chinchwad Housing Societies federation.
Speaking on behalf of the federation and the residents of the region, Adv Satya Muley said, "Due to unplanned development Mumbai had faced similar problems. Solid waste management sites such as Deonar, Mulund, Kanjur etc became health hazards for the local residents and on the other had ended up being overburdened due to increase in population. Such subjects have already reached the Hon'ble Bombay High Court and the Supreme Court of India, it has been held that the Solid Waste Management Rules 2016 and, The environment protection Act are mandatory in nature. Guidelines for site selection, environmental clearances etc are clearly mentioned in the Rules and Laws. Considering the current situation, and the facts, it is strongly advised to the PCMC to identify a far away site and abandon the plans of developing the project at Punawale. The Proposed project at Punawale is contrary to various laws and various grounds. A forest land can not be converted into a dumping site, which shall also lead to polluting the adjacent Abha Lake. Arial distance from the Pune airport is only 11 Km, when the law mandates a minimum 20 km distance. If the PCMC does not follow the due provisions of the law and take into consideration the wishes of the local residents, then the Federation shall take legal action against the PCMC by filing a PIL."