Pune : VishwaHind Sanatan Samiti Organizes Vishwakarma Pooja at Thergaon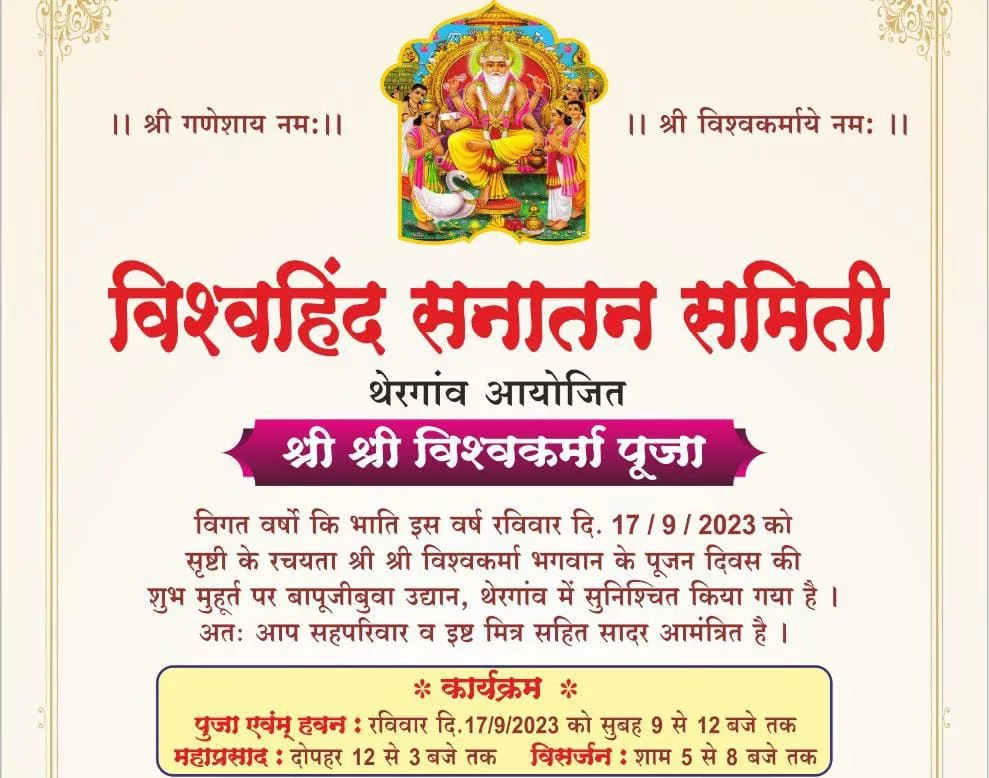 VishwaHind Sanatan Samiti has organized a Pooja of Lord Shri Shri Vishwakarma at Thergaon on 17 September (Sunday).
As per information from VishwaHind Sanatan Samiti, some objectives of organizing this pooja are:
· To unite all people
· To help them grow
· To teach them new skills
· To provide something that can help them move forward in their lives by understanding their needs
· To educate the upcoming youth about several things
And more.
The events of the day are follows:
· 9:00 am to 12:00 pm – Pooja
· 11:00 am onwards – Blood Donation Camp
· 12:00 pm to 3:00 pm – Maha Prasad
· 1:00 pm onwards – Book Distribution
· 5:00 pm to 8:00 pm – Visarjan Yatra
This pooja is going to be graced by various notable personalities such as:
· Shrirang alias Appa Barane (MLA Lok Sabha, Maval Constituency)
· Ashwini Jagtap (MLA, Chinchwad Assembly)
· Abhishek Barane (Former Corporator, PCMC)
· Manisha Pawar (Ex Corporator, PCMC)
· Tanaji Barane (Former Corporator, PCMC)
· Nita Padale (Former Corporator, PCMC)
· Kailas Barane (Former Corporator, PCMC)
· Jyoti Bharti (Former Corporator, PCMC)
The Executive Members of the Pooja are:
Vijaykumar Vishwakarma, Omprakash Vishwakarma, Ramchandra Vishwakarma, Tribhuvan Vishwakarma, Ramkumar Vishwakarma, Guruprasad Vishwakarma, Chandrashekhar Jangid (Sonu), Rahul Vishwakarma, Indradev Vishwakarma, Gulshan Vishwakarma, Ashishkumar Vishwakarma, Kanhaiya Vishwakarma, Sanjay Vishwakarma (V. News), Sunil Vishwakarma, Tirath Vishwakarma, Sanjay Vishwakarma, Sanjay Jangid, Ajay Vishwakarma, Brijesh Vishwakarma, Bhavani Banjara, Dinesh Vishwakarma, Ramashankar Vishwakarma, Shivshankar Vishwakarma, Hariman Vishwakarma, Rajesh Vishwakarma, Bhagwatiprasad Vishwakarma, Jay Panjwani (Entrepreneur), Bhulan Vishwakarma, Yuvraj Singh, Anil Kumawat.
The Pooja will be held on 17th September (Sunday) from 9 am to 5 pm at Bapujibuwa Udyan, Opposite Thergaon Hospital, Thergaon, Pune – 33.
VishwaHind Sanatan Samiti cordially invites everyone to come & be a part of this Pooja.