Pune News : Kharadi Residents Protest Against Unauthorized Activities of Builder On Exhibition Ground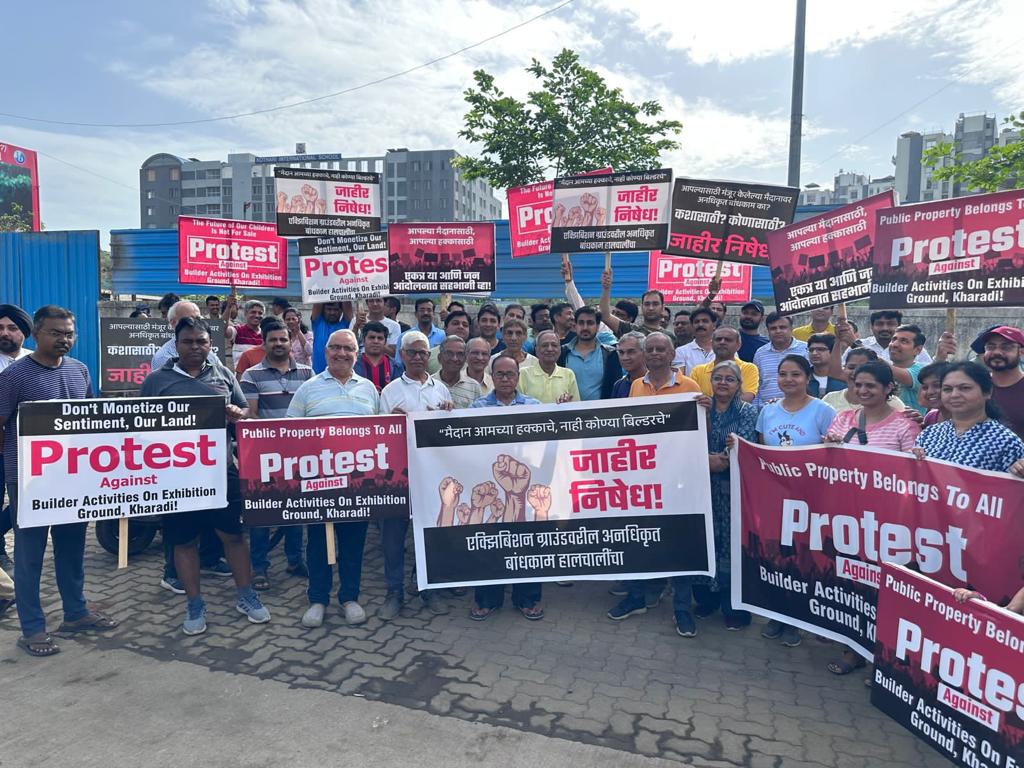 Over a hundred citizens of Kharadi united to raise awareness to protest against the unauthorized builder activities taking place on this significant public space. 
The protest was aimed to protect the exhibition ground, which has long been designated for public use as per the PMC Development plan. Instead of fulfilling its intended purpose, the ground has recently faced encroachment, posing a threat to its existence.
Surendra Pathare, Surendra Pathare Foundation told Pune Pulse said, "Through our collective solidarity, we sent a powerful message to those in positions of authority that this land must be preserved for its intended purpose. This protest underscored our unwavering commitment to safeguarding the future of public spaces, ensuring that future generations can create cherished memories and maintain strong community bonds."
He further said that the protest was held as the builder had handed over the place to PMC and also received its TDR. But it got the land back from PMC and has started construction activity. This move is against the law. The residents are demanding that the original objective of the land must be put to use." 
Deepak Patil of Kharadi Housing Societies Welfare Association told Pune Pulse said, "Citizens from all walks of life, most of the associations, Foundations, groups came together for securing the title of Exhibition ground. Association like Kharadi Housing Societies Welfare Association, Surendra Pathare Foundation, Sr Citizens Kharadi Group, Women's Club Kharadi joined the protest. 4 acres of land parcel is reserved for Exhibition ground & from decades together PMC is not taking any steps for it. The question is why they are waiting for such things to happen & why they are not levering up the ground & make it open for citizens? Opinions had come out that, if PMC doesn't take any steps in months time citizens will start utilising the ground in as is condition & take a charge to develop it." 
Patil further said, "We don't have any bigger ground, gardens planned in kharadi & with population growing it's need of the day. We urge PMC to act soon, as property tax going from PMC is very high compared to benefits provided to Kharadi."