The Pune Municipal Corporation has been conducting Heritage Walks in the city's core areas for the last few days. From April 23 to May 7, four heritage walks have been conducted so far which saw participation of 80 heritage enthusiasts.
Speaking to Pune Pulse Sunil Hambirrao Mohite, executive engineer, Heritage department, Pune Municipal Corporation said, "Between April 23 and May 7, we held four heritage walks in the city covering 11 places of historical and religious importance. Visitors can avail the facility by paying a nominal fee of Rs 300 for adults, Rs 100 for students and Rs 500 for foreign tourists. Each walk has 20 tourists. We may increase the number of walks in a day so that more people benefit from the walks and understand the importance of the places. The walk is held between 7.30 am and 9.30 am. It starts from Shivaji Bridge near PMC headquarters and covers popular tourist places such Ghorpade Ghat, Dagdusheth Halwai temple, Bhide Wada, Bhau Rangari Mandir, Tambdi Jogeshwari temple, Pune Nagar Vachanalaya, Tulshibaug Ram Mandir and Mahatma Phule Mandai and concludes at Vishrambaug Wada. The walk covers a distance of 2.5 kms approximately."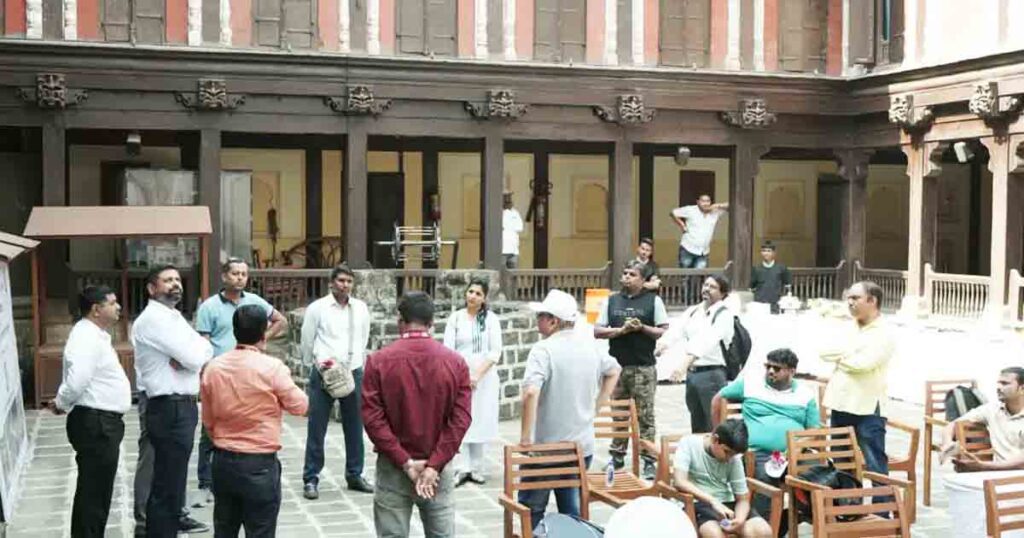 Since the places where the walk is held are in the heart of the city and sees heavy traffic, to cut the disturbance caused by the vehicles, the PMC has decided to buy over 20 headphones so that tourists can listen to the narration clearly.
Mohite added that these walks take us through the detailed information about the monuments located in Pune city, which remain unexplored.
The PMC's heritage walk initiative is a part of its efforts to promote cultural tourism and attract visitors to the city. The PMC has been working towards restoring and preserving the city's heritage structures and has taken several initiatives to promote them among citizens and tourists. The Heritage Walk is one such initiative that aims to showcase the rich cultural and historical heritage of Pune to the world.
Those interested in participating in the walk can register themselves by visiting the website https://heritagewalk.pmc.gov.in