Serial Blasts At Prayer Meeting In Kerala, 48-Year-Old Suspect Surrenders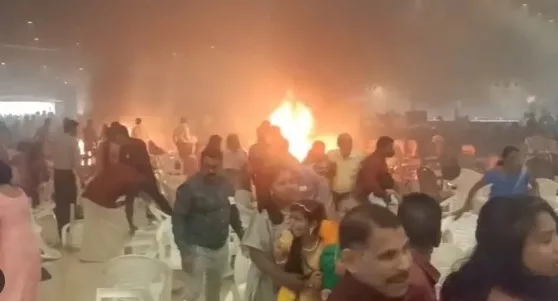 A tragic incident unfolded today at a convention center in Kalamassery, Kerala, where a series of explosions occurred during a Jehovah's Witnesses convention. These blasts resulted in the loss of one woman's life and left 50 individuals injured. At least three explosions rocked the venue shortly after the prayer meeting commenced.
The explosions took place just 10 kilometers from Kochi, shaking the nation. The alleged perpetrator, a 48-year-old man named Dominic Martin, claimed responsibility for the blasts and subsequently surrendered to authorities. Astonishingly, he asserted his affiliation with the same Christian denomination that had organized the prayer meeting.
Approximately 2,000 people were in attendance at the convention center when the tragedy struck. Eyewitnesses revealed that the initial blast disrupted a prayer session, with investigators later discovering explosives concealed within a lunchbox.
Hibi Eden, the Member of Parliament for Kalamassery, disclosed that the first explosion occurred at the heart of the hall. Fortunately, the event had an evacuation plan in place, which was promptly executed following the initial blast.
Regrettably, 50 injured individuals are currently receiving medical treatment at various hospitals in the district, with 18 of them in intensive care. Tragically, five of the blast victims are in critical condition.
Kerala's Chief Minister, Pinarayi Vijayan, described the blasts as "unfortunate" and emphasized the gravity of the situation. Senior police officials from the state are en route to the blast site to oversee the situation.
The National Investigation Agency (NIA), specializing in counter-terrorism operations, will conduct an inquiry into the blasts. Their forensic team is already present at the scene, gathering evidence.
Disturbing visuals from inside the convention centre portrayed multiple fires within the hall, accompanied by the harrowing sounds of people, including children, in distress.
Outside the convention centre, a considerable crowd had gathered in the aftermath of the explosions.
In response to the incident, Kerala's Health Minister, Veena George, has mobilized healthcare workers to report for duty.
Following the serial blasts during a prayer meeting of Jehovah's Witnesses at a convention centre in Kerala's Kalamassery today, security has been tightened in the national capital and Mumbai.