Vande Sadharan new non-Ac train set for trail run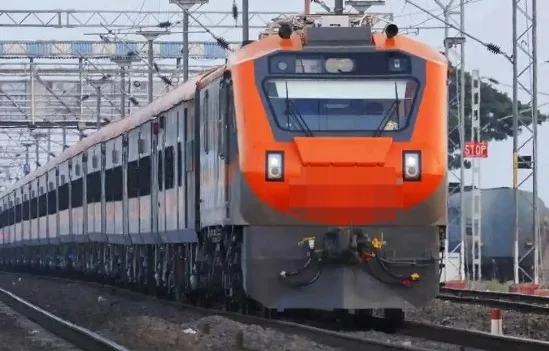 By: Pune Pulse
November 1,2023
Pune: The Vande Sadharan Push-Pull train, which has recently been introduced, has arrived at Mumbai's Wadi Bunder yard on Sunday, October 29. As per the reports, the train is scheduled to undergo trials in the upcoming week.
As per the information received, this train comprises 22 coaches, is an LHB non-AC 3-tier sleeper train, and aims to provide affordable fares to passengers. It can accommodate up to 1,800 travellers and is hauled by two WAP5 locomotives, each featuring sleek, streamlined noses, enabling it to operate at speeds of up to 130 kmph.
The report outlines that the trials are expected to occur in the Mumbai-Nashik corridor, with a specific emphasis on the challenging hilly terrain. It is likely that the Mumbai-Delhi route will be one of the potential routes for this train. As per the information received, Railway Board Secretary Milind Deouskar announced the Indian Railways' plan to introduce Vande Bharat Sleeper Coach and Vande Bharat Metros during a CII rail conference on October 12.
He informed me that these trains would meet the expectations of throughput, speed, and convenience. The Vande Sadharan train will be pulled through the push-pull method using two locos, which will increase the acceleration rate in the train running system. The coaches will be equipped with modern amenities such as bio-vacuum toilets, a passenger information system, and charging points at every seat. To enhance passenger safety, CCTV cameras will be installed in every coach.
For the first time, the train will be equipped with an automatic door system similar to that of the Vande Bharat Express. This non-AC train will also feature CCTV cameras and bio-vacuum toilets, marking a significant advancement in railway amenities. The introduction of these modern facilities has garnered some criticism, as the Vande Bharat trains are seen as a premium service with higher fares.
Nevertheless, the upcoming Vande Sadharan service is anticipated to be available at regular fares, ensuring accessibility for all passengers. Additionally, the railways are currently producing Vande Metro trains for local commuting purposes at the ICF.